Divemaster Internships In Gran Canaria!

Why should I become a PADI Divemaster?
Becoming a PADI certified Divemaster is the first level of professional diving. This esteemed certification will allow you to dive all around the world and work with other passionate and like minded divers! The Divemaster course will provide you with invaluable skills that will not only improve your diving but will also enhance every aspect of your life.
Why join Leagues Ahead Diving for the Divemaster Internship in the Canary Islands?
Join a team of young and passionate scuba divers who will teach you the in's and out's of professional diving!
As a personal dive center who prides themselves on their customer service, you will be able to work closely with small groups of divers ensuring you will become a confident and capable diver upon completion of the course! We have many years of experience working in the diving industry and love passing on our skills, knowledge and passion!
An island with warm subtropical water and bathed in sunshine throughout the year, Gran Canaria is the perfect scuba diving destination to stop dreaming and start doing!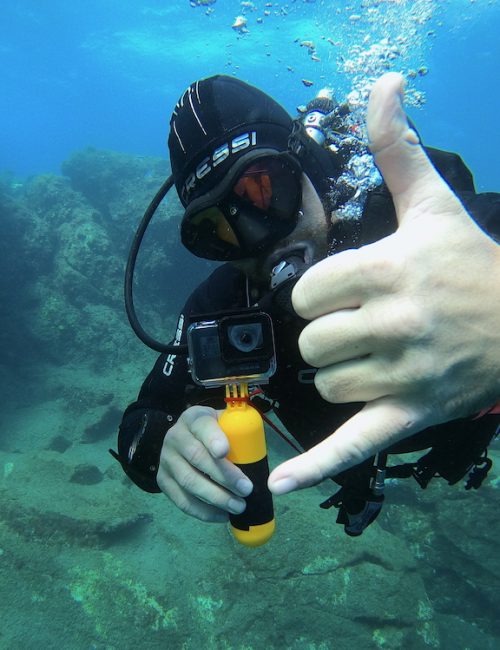 What is Involved in my Divemaster internship in Gran Canaria?​
Complete knowledge development segments including knowledge reviews in the PADI Divemaster manual and pass the Divemaster final exam.
Complete water-skills exercises:
400 Yard Swim
800 Yard Snorkel
15 Minute tread
100 Yard Tired diver tow
Equipment exchange underwater
Complete a diver rescue assessment.
Demonstrate all scuba and skin diving skills, scoring at least a 3 on each skill, and scoring at least 82 points total, with at least one underwater skill to a 5.
Dive Site Set Up and Management
Mapping Project
Dive Briefing
Search and Recovery Scenario
Deep Dive Scenario
Complete divemaster-conducted programs workshops:
ReActivate Program
Skin Diver Course and Snorkeling Supervision
Discover Scuba Diving Program in Confined Water
Discover Scuba Diving Program – Additional Open Water Dive
Discover Local Diving in Open Water
Complete practical assessments:
Practical Assessment 1 — Open Water Diver Students in Confined Water
Practical Assessment 2 — Open Water Diver Students in Open Water
Practical Assessment 3 — Continuing Education Student Divers in Open Water
Practical Assessment 4 — Certified Divers in Open Water
Meet the professionalism criteria:
Verify that divemaster candidates score at least a 3 in each category below by the end of Practical Application.
Level of active, positive participation in the training sessions.
Ability to serve as a mentor to student divers.
Willingness to follow directions.
Positive attitude and demeanor toward student divers, certified divers and staff.
Positive attitude and practice towards caring for the environment.
General understanding of a divemaster's role.
Appearance.
How long does the Divemaster Internship last?
The length of the internship depends on your current certification level and your diving experience. 
Scroll down to check out our different pricing options and time frames below!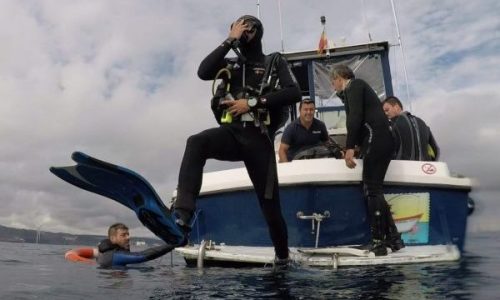 Whats Included:
PADI Open Water Course
PADI Advanced Open Water Course
PADI Rescue Diver Course
PADI Emergency First Response
PADI Divemaster Course
At least 60 dives to be certified as a divemaster
Rental equipment (not including a dive computer)
Whats not included:
Diving Insurance (35 euros for 1 year)
PADI E-learning materials
Divemaster Application Fee
Food and expenses
Whats Included:
PADI Advanced Open Water Course
PADI Rescue Diver Course
PADI Emergency First Response
PADI Divemaster Course
At least 60 dives to be certified as a divemaster
Rental equipment (not including a dive computer)
Whats not included:
Diving Insurance (35 euros for 1 year)
PADI E-learning materials
Divemaster Application Fee
Food and expenses
Rescue Diver to DM ( 4 Weeks)
Whats Included:
PADI Rescue Diver Course
PADI Emergency First Response
PADI Divemaster Course
At least 60 dives to be certified as a divemaster
Rental equipment (not including a dive computer)
Whats not included:
Diving Insurance (35 euros for 1 year)
PADI E-learning materials
Divemaster Application Fee
Food and expenses
Whats Included:
PADI Divemaster Course
At least 60 dives to be certified as a divemaster
Rental equipment (not including a dive computer)
Whats not included:
Diving Insurance (35 euros for 1 year)
PADI E-learning materials
Divemaster Application Fee
Food and expenses