These dive sites of Gran Canaria are the ones we visit most regularly. If you would like to go to other dive sites anywhere else on the island, just contact us and we will figure everything out!
Dive sites of Gran Canaria: Playa de Amadores
Key points:
Maximum depth: 15 metres
Points of interest: Man-made eco reef
The minimum level of certification: Open water diver but this is a fantastic site for a Discover Scuba Diving lesson.
Entry: shore / giant stride optional
Where is the dive site Amadores Bay?
Amadores Bay in the South of Gran Canaria is home to our house reef.
A mere twenty-minute drive away from our dive centre in Playa Del Ingles Gran Canaria it is home to two fantastic dive sites.
On South-West coast of Gran Canaria, nestled between Puerto de Mogan and Puerto Rico lies Playa de Amadores, commonly referred to as the 'beach of lovers.'
Why is this dive site special?
Amadores is an 800-metre beach that combines tropical white sand and crystal clear and warm Atlantic water
Amadores reef is not only the perfect dive site for beginner divers taking their first fin-kicks underwater but for families looking for a fun-filled day out whilst holidaying on Gran Canaria
Playa de Amadores was awarded the Blue Flag award in 2004. For those that are not aware of what this prestigious award is presented for, it is an accolade: ''For the coastal environment, water quality, safety and access for all: the Blue Flag represents a serious and profound commitment to both people and the environment.'' Click this link to read more about the Blue Flag Award.
Amadores is sunny for over 320 days a year it is easy to understand why the Leagues Ahead Diving Team have fallen in love with the 'beach of lovers' and the underwater world of Playa de Amadores that you just have to explore.
What is the Dive like in Amadores Beach?
A short walk down the golden beach brings us to the straightforward shore entry point and the flat sandy bottom composition that allow divers to perfect their diving skills in a fun and relaxed manner. Whilst completing confined water training you will be greeted immediately by Sea-Bass and SCHOOLS OF SARDINES . A short swim over the middle reef of Amadores brings us to the outside of the bay, the breakwater declines down to 12 metres and this is where you often see Angel Sharks, Stingrays and flatfish. Approximately 30 fin-kicks from the breakwater brings us to a man-made eco reef made by divers from abandoned tyres that were littering the underwater world of Gran Canaria. The reef is now home to Octopus, Puffer Fish, Spider Crabs, Parrot Fish and Cuttlefish. The reef was designed to protect and inhabit the local marine life of Amadores, reduce the waste found under the sea and serve as a point of interest for all our fantastic customers!
What marine life will I see in Amadores?
The water is a warm 20-23 degrees with excellent visibility all year round ensuring you have the best chance to see Barracuda, Cuttlefish, Angel Sharks, Octopus, Starfish, Spider Crabs, Parrotfish and a wide variety of Stingrays to name a few.
After dive activities:
This sunshine pocket of Gran Canaria provides us with the best setting for a surface interval. After you have finished scuba diving you have a great opportunity to go and have a coffee or sample some Spanish cuisine in some of the fantastic restaurants that Gran Canaria has to offer. I can highly recommend the restaurant Palm Beach and this is where you will find the Leagues Ahead Diving team (identifiable by the salty hair and wetsuits) relaxing with customers after some bubble blowing action!
Alternatively on the right side of the beach lies Amadores Beach Club, this luxurious alternative to the beach ensures you can lounge by the pool and dine in style! Furthermore, Playa de Amadores is the perfect dive site for your family and friends to relax and see you enter the dive site as they enjoy the fantastic sun on the beach if they do not wish to dive.
Dive Sites  of Gran Canaria: Araganza "Mogan" Wreck
Maximum depth: 22 metres
Minimum level of certification: Advanced Open water diver
Entry: Boat
What to expect from Araganza Wreck?
This is the first of two wrecks that have been sunk by the yellow submarine company for the submarine tours! Lying at approximately 19 metres below the surface the Araganza is home to an abundance of marine life, the submarine tour feeds the fish ensuring that you are guaranteed to see the shoal of Roncadores at the bow of the wreck. You will also be amazed at the number of Barracuda, Trumpetfish and Stingrays that inhabit the sunken wreck.
The dive site is a short boat ride from Puerto de Mogan and we try to arrange the time of the dive with the time that the submarine tour is leaving from Mogan harbour, thus all the divers have great fun waving and taking pictures of the customers in the submarine itself! Be sure not to forget your camera! The submarine adventure is also a great way for your non-diving family and friends to watch you from inside the submarine.
Dive Sites of Gran Canaria: The Artificial reef
Maximum depth: 24 m
Level of certification necessary: Advanced open water diver
Entry: boat
This is an artificial biotope which lies approximately 5km from Puerto de Mogan Harbour. It was originally created as a project of the Department of Marine Biology by the University of Las Palmas! The idea behind the concept was to create a refuge for the prolific amount of marine life endangered by fishing. The dive site consists of several different concrete block formations all different shapes and sizes which create this safe haven where marine life such as Stingrays, Angel Sharks, Octopus, Moray eels, Cuttlefish and much more take refuge. It is an underwater aquarium that will keep you wanting more! Family and friends of the divers who do not wish to dive themselves are more than welcome to join us on the boat for a fun packed day out at sea!
Dive Sites Of Gran Canaria: La Catedral
Maximum depth: 40 metres

Minimum

 level of certification: Advanced Open Water Diver (must have a test dive before progressing)
Entry: Boat
La Catedral is a dive site for the more experienced diver who is looking for a deeper dive. The conditions can be challenging for some as the choppy sea in the north and the small rib can create sea sickness and make gearing up potentially challenging.  Located approximately forty minutes away from our base in Playa del Ingles, it is well worth the journey! The La Catedral dive site is home to some of Gran Canaria's most spectacular landscapes and rock formations of volcanic origin. An enjoyable thirty-minute boat trip overlooking the beautiful coastline of Gran Canaria brings us to the dive site. The dive site is home to an abundance of marine life which is guaranteed to enthral every diver, you will be surrounded by Snappers, Moray eels, Octopus, Groupers and much more.
Dive Sites Of Gran Canaria: El Cabron
Maximum depth: 24 metres
Minimum level of certification: Open Water Diver
Entry: Shore
A road trip of approximately 30 minutes from our base in Playa del Ingles brings us to the fantastic underwater nature reserve El-Cabron given the title of one of the best dives in Europe! Because of the journey, we leave earlier in the morning thus ensuring you have the evening to spend with your family and friends whilst on holiday. If you love coffee as much as our instructors here at Leagues Ahead Diving you will be pleased to know we stop to grab a coffee on the journey near Arinaga to ensure the day is relaxed and pleasurable.
Once we have arrived at the dive site you will be surprised by the rocky terrain, it is like you are on another island! Many dive centres refuse to travel to El Cabron with the fear of damaging their equipment or vans, but here at Leagues Ahead Diving, we believe the dive site is worth it and so offer the dive to our customers. The dive site consists of several different entry points, with each one offering something different ranging from caves, a swim through, arches and a Rhonchorous wall. The visibility of a dive site depends on the weather conditions however it rarely falls below 15 metres visibility. The spectacular clear water and the fact that no boat trips or commercial fishing are allowed ensures you get to see the vivid array of marine life that El - Cabron has to offer such as Octopus, Angel sharks, Turtles, Barracuda, Cuttlefish, Moray eels and much more. With the dive site being multi-level, dependent on your aim consumption you can have dives of forty plus minutes!
El Cabron is known for its rocky shore entry. It is extremely safe with our instructors having dived there hundreds of times. If you prefer an easier beach entry please let us know and we will enter the dive site from Discovery Bay. Discovery Bay is a fantastic dive within El Cabron that combines the underwater volcanic landscape with an easy beach entry.
El- Cabron was classified as a site of special scientific interest by the European Union in the year of 2001, and the AA pocket guide describes this dive site as the "best place to dive,'' so don't miss out on the opportunity to see this fantastic dive site and book today!
Dive Sites Of Gran Canaria: Mogan reef
Maximum depth: 12 metres
Minimum level of certification: open water diver
Entry: shore
Situated in idyllic Puerto De Mogan, Mogan reef is a fantastic dive for all level of diving certifications. Leagues Ahead Diving can suit the dive to your needs, for example if you prefer a gentle and relaxed entry we can enter the water from the beach, or if you prefer we can arrange a giant stride entry from the rocks under the cliffs at the end of the beach. This dive site offers a wide array of marine life including Barracuda, Tuna fish, Butterfly Ray's, Octopus and much more. This dive site lets you explore caves and caverns at your leisure whilst being guided to all the best spots of the dive site by your guide.
Dive Sites Of Gran Canaria: Risco Verde (Arinaga)
Maximum depth: 15m
Minimum certification: Discover Scuba Diving/Open Water Diver
Entry: Shore
Ideal for beginners and enthusiasts alike, Risco Verdes' sheltered bay means mild current all year round accompanied by an easy shore entry. Don't let the accessibility and comfort of this dive fool you. Risco Verde is still a host to an amazing array of marine and life and great visibility all year around. Just a 20 minute drive from our location in San Fernando we will park in a designated area just for divers, making equipment preparation and suiting up very easily. Walk a mere 20 meters to the calm shore and enter with ease where you will be guided on one of the two dives this site has to offer. On the first dive you shall be guided along the natural volcanic reef where you will encounter Octopus, Starfish, Nudibranchs and small shoals of Barracuda. The second dive consists of a bottom composition of sand which is the perfect environment to see Eagle rays, Cuttlefish and Angel Sharks. After your dive grab a coffee or deco beer in the café La Farola overlooking the ocean you were just underneath.
Dive Sites Of Gran Canaria: Sardina del Norte
Maximum depth: 18 m
Level of certification: Open Water Diver
Entry: Shore
Sardina del Norte is located on the North of the island, it takes approximately 40 minutes to reach this dive site, but is well worth the journey. We always stop for coffee and snacks on the way at a coffee shop near Arinaga and it gives you the opportunity to see more of the island. This dive site is ideal for all levels of certification. The entry is particularly easy with entering the water a few steps away. During the dive, it is common to see Angel sharks, and our instructors always come across our friend sharky hidden within the sandy bottom composition. As well as sharky you are expected to see African striped grunts, Sea Horses, Parrot fish, Sting Rays, Butterfly rays and Garden Eels. After the dives have been completed there is nothing better than relaxing in one of the bars or restaurants on the promenade overlooking the ocean! After this excursion, we will then return you to your place of vacation or you can return to our 'chill-out' room at the dive centre to discuss the dive with other like-minded divers.
Dive Sites of Gran Canaria: Tufia
Maximum depth: 18 m
Minimum level of certification: open water diver
Entry: shore entry
The town of Tufia is famous in Gran Canaria for existential battle against the Spanish government, it was created by a volcanic eruption, thus these dive sites epitomise what it is like to dive in Gran Canaria. The eruption ensured that several caves and volcanic rock structures are the main focus point of this dive. The dive site is situated in an idyllic part of Gran Canaria and with just a short walk on the impressive black volcanic sand beach you have arrived at the entry point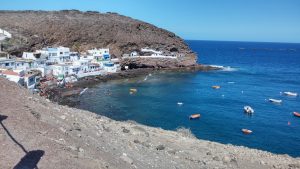 of the dive site. Tufia is famous at Leagues Ahead Diving for a large number of octopi we always see! Our instructors always find Harry the large octopus hidden within the underwater arch situated at 15 metres. He is always very friendly and accommodating to all divers but remember to only take pictures and leave only bubbles! Furthermore, you will be greeted by Grunts, Parrotfish, Trumpetfish, Barracuda and Stingrays that take refuge in the volcanic underwater landscape.
Little more than a collection of white seaside houses overlooking the ocean it is the most charming place for a surface interval. But believe us, you will be eager to re-enter the water again!
Tufia is also a fantastic dive site for snorkelling, so it is great fun for the whole family! The water is calm and clear so is great for younger children to build up their confidence in the water.