Scuba Diving Gran Canaria with Leagues Ahead Diving 
Leagues Ahead Diving in Playa Del Ingles is a premier scuba diving center and is the 'go to place' for all Scuba Diving and Snorkelling excursions in Gran Canaria.
We are a new scuba diving center in the sunny South of Gran Canaria that combines outstanding customer service, exceptional safety regulations, and a fun and relaxed atmosphere to ensure your underwater adventures are unforgettable.
Our dive center is owned and managed by young, interpersonal and dedicated PADI scuba diving instructors who conduct one on one training and carry out qualified dives in small and practical groups in the crystal clear waters of Gran Canaria.
We cater for every diver from beginner to a professional level and adapt the dive to suit your needs! When it comes to scuba diving we make sure that Leagues Ahead Diving is the best choice when it comes to taking the plunge in Gran Canaria.
If you are brand new to Scuba Diving then the PADI Discover Scuba Diving lesson is the best place for you. The lesson which lasts 2-3 hours will introduce you to the world of Scuba Diving.
What's involved in Your first scuba diving lesson in Gran Canaria?
The lesson will take place in Amadores Bay, only ten minutes drive from our dive centre in the heart of Playa del Ingles.

You will be given your own personal PADI diving instructor who will supervise you for the duration of the lesson.

After a detailed briefing, you will slowly be introduced to breathing underwater and performing some basic scuba diving skills.

Once you are comfortable you will then be guided on a forty-minute dive to a maximum depth of 12 metres where you will be delighted by tropical fish, Octopus, Cuttlefish and much more!

The price for this lesson is 80 euros per person.
The price includes
complimentary hotel transfers,

full rental equipment,

snack and refreshment

Your own fully qualified PADI instructor.

Photos and videos can be also be purchased at the dive centre. Or you can bring your own scuba diving camera. 
And more great news, if at the end of the experience you love diving as much as we do, the cost of this lesson can be deducted from the price of the Scuba Diver or Open water diving course.  
PADI Courses
Do you want to become an independent scuba diver? If you want to learn equipment preparation, master your buoyancy and learn vital scuba diving skills then a PADI scuba diving course is for you.
Earning your PADI certification will allow you to dive around the world for reduced prices. If you are an open water scuba diver or above you can even rent or buy your own equipment and just go diving with your certified buddy! The PADI open water scuba diver course is the most popular diving course in the world, after completing this three day course you will be certified to dive independently to 18 meters!
At Leagues Ahead Diving all courses are taught in small and personal groups allowing you to master the skills in your own time. We understand that people learn at different paces so we are more than willing to spend the extra time with our students to make sure they fulfill all requirements for the chosen course.
To read about all our courses ranging from beginners to professional courses please click here.
Dive sites for certified divers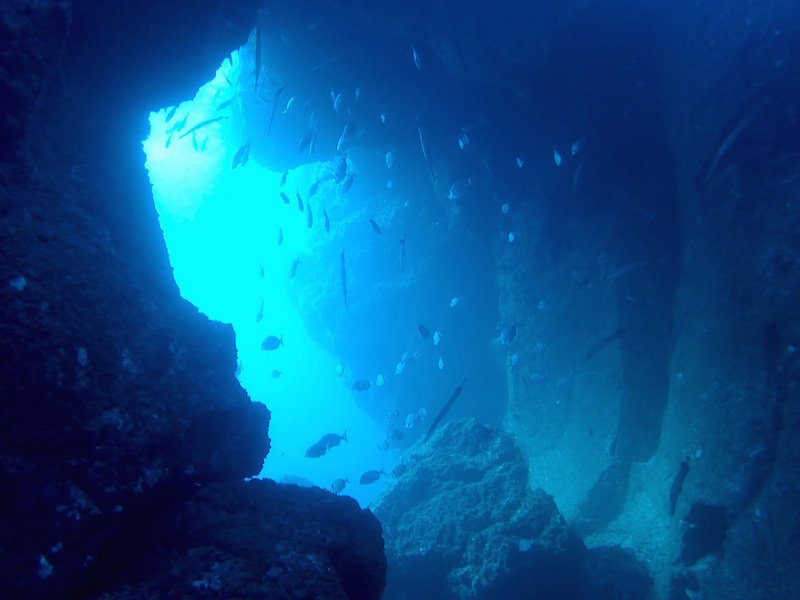 Situated in the coastal zone of Aguimes is El Cabron. Voted one of the top ten dive sites in Europe, the dive site El Cabron is an obligatory stop for all divers traveling to Gran Canaria. One of only three marine reserves in the Canary Islands it is home to a rich diversity of marine life including four hundred varieties of Flora and Fauna. Because of its marine reserve status, boat traffic nor commercial fishing are allowed in the area, allowing marine life to thrive.
The Arco Chico, Los Roncadores and Punta de la Sal are three of the ten dive routes available to dive at El Cabrón, with each different route catering for varying certification level. Every dive offers something different from caverns, swim-throughs, arches, and caves!
Qualified dives are only conducted in small and interpersonal groups ensuring you will be under the watchful eye of a PADI instructor or Divemaster for the duration of the dive.
Brand new CRESSI diving equipment and complimentary hotel transfers are included in the price of 80 euros for two dives. Diving packages can be arranged upon request!
Click here to find out more about diving in El Cabron or our many other dive sites!
As a Scuba diving instructor working in Gran Canaria the skill that my students require the most practice with is clearing water from the mask. Don't worry we have all been there, especially myself. During my Open Water course, the skill I could not master was removing and replacing my scuba diving mask underwater. The […]
Table of contents : Introduction Directions to El Cabron Potential hazards Dive route 1: Discovery Bay Dive route 2: Punta De La Monja Dive route 3: The Table Top Dive route 4: Punta De La Sal Conclusion Introduction to El Cabron When divers think about scuba diving in Gran Canaria, they often think of white […]
The Trumpetfish While diving in Gran Canaria we often see many weird and marvelous species of fish. Some might say that the Trumpetfish is the weirdest of them all. Although they might not look like your conventional species of fish, they are a highly adapted species. Let's take a look at this often misunderstood species […]
See all our news