Welcome to Leagues Ahead Diving

★ PADI 5 STAR CENTER ★
why dive with the leagues ahead diving center in gran canaria?
Because our diving center in Gran Canaria is obsessively passionate about making your diving excursion the best diving experience possible! When it comes to scuba diving we work tirelessly to make sure that we are truly "Leagues Ahead" and the best choice when it comes to taking the plunge in Gran Canaria!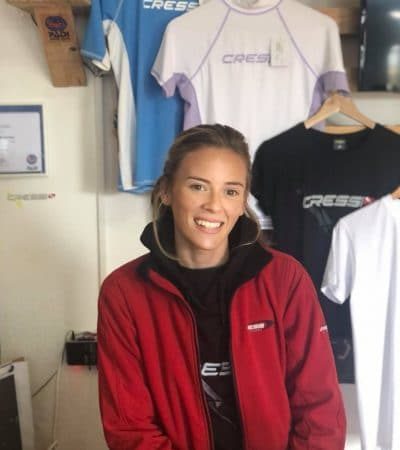 CUSTOMER SERVICE
Languages – English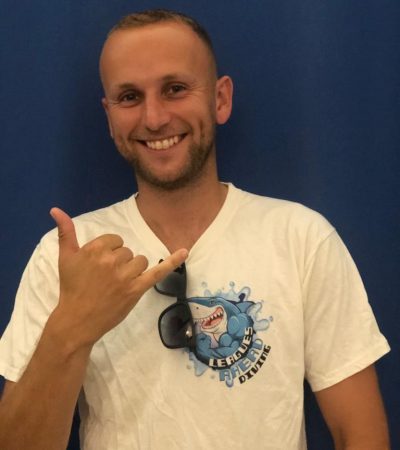 INSTRUCTOR
Languages – English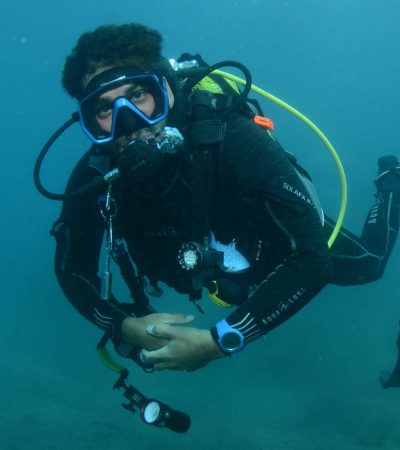 INSTRUCTOR
Languages – English, Spanish and Portuguese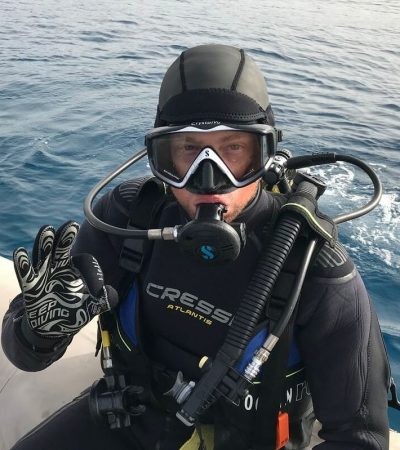 DIVEMASTER
Languages – English 
We did two fundives st Leagues Ahead Diving. Everyone was super friendly, competent and helpful! Would go back there anytime when diving in GC.
2 fantastic dives with James and Sophie at El Cabron. I arranged the dives by email before I travelled to Gran Canaria and was picked-up at the hotel we were staying at the arranged time...
Learning to dive for the first time with Leagues Ahead has been a brilliant experience all round. Our instructors Sophie and James were so knowledgable, friendly, encouraging ....
See our 2022 certificate of excellence awarded to our diving center in Gran Canaria and read all 5 star reviews here
WHAT IS DIVING IN GRAN CANARIA LIKE?
WARM WATERS:
When diving in Gran Canaria you will be welcomed by warm subtropical water reaching temperatures of 25 degrees in the summer months. 
BEAUTIFUL MARINE LIFE:
Rich biodiversity in marine life ranging from small colorful fish to giant Sting Rays and Angel Sharks.
STUNNING UNDERWATER LANDSCAPE:
Because of the volcanic formation of the island we have beautiful caves, caverns and arches for you to explore!
OUr 5 star PADI diving Center in gran Canaria promises to:
CATER FOR SCUBA DIVERS OF ALL LEVELS:
The Leagues Ahead Diving center in Playa Del Ingles is a premier PADI scuba diving center and is the 'go to place' for all Scuba Diving and Snorkelling excursions in Gran Canaria!
SCUBA DIVE IN THE BEST DIVE SITES IN GRAN CANARIA:
Gran Canaria has a wide array of amazing dive sites that are suited for all levels of certification! We have easier more relaxing dives sites such as Risco Verde and then of course we have dive sites such as the infamous and exhilarating marine reserve El Cabron.
MAKE SURE SAFETY IS OUR NUMBER 1 PRIORITY:
This is why we cater our dive sites to the certification and experience level of all clients and ensure that group sizes are always kept small! 
ALWAYS HAVE PASSIONATE & DEDICATED STAFF:
Our dive center is owned and managed by young, interpersonal and dedicated PADI scuba diving instructors who are obsessively passionate about providing the highest level of customer service.
GUARANTEE A FUN AND RELAXED ATMOSPHERE: 
When it comes to scuba diving we make sure that Leagues Ahead Diving is the best choice when it comes to taking the plunge in Gran Canaria.
AS A FULLY AUTHORIZED PADI DIVE CENTER IN GRAN CANARIA WE TEACH ALL PADI COURSES!
Do you want to become an independent scuba diver? Do you want to learn equipment preparation, master the art of buoyancy and learn vital scuba diving skills? If yes, then you have come to the right scuba diving center! 
Earning your PADI certification will allow you to dive around the world for reduced prices and even allow you to rent or buy your own equipment and just go diving with your certified buddy! The PADI open water scuba diver course is the most popular diving course in the world, after completing this three day course you will be certified to dive independently to 18 meters!
At Leagues Ahead Diving all courses are taught in small and personal groups allowing you to master the skills in your own time. We understand that people learn at different paces so we are more than willing to spend the extra time with our students to make sure they fulfill all requirements for their chosen course.
WHAT WILL YOUR FIRST SCUBA DIVING LESSON BE LIKE?
Let our experienced, friendly and patient Scuba diving instructors make your first dive a truly memorable one!
HOW LONG DOES THE EXCURSION LAST?
The Discover Scuba diving lesson lasts approximately 4 and a half hours. The complimentary hotel transfers begin at 8:00am and we will drop you back approximately 12:30 pm
HOW DEEP CAN I DIVE?
The PADI Discover Scuba diving lesson allows you to dive to a maximum depth of 12 meters with no prior experience.
WHAT MARINE LIFE CAN I EXPECT TO SEE?
You can see tropical fish, Octopus, Cuttlefish, Shoals of Sardines, Stingrays, Angel Sharks and much more!
CAN I BUY VIDEOS OR PHOTOS OF MY FIRST DIVE?
Yes! Photos and videos can be purchased at the dive centre upon request.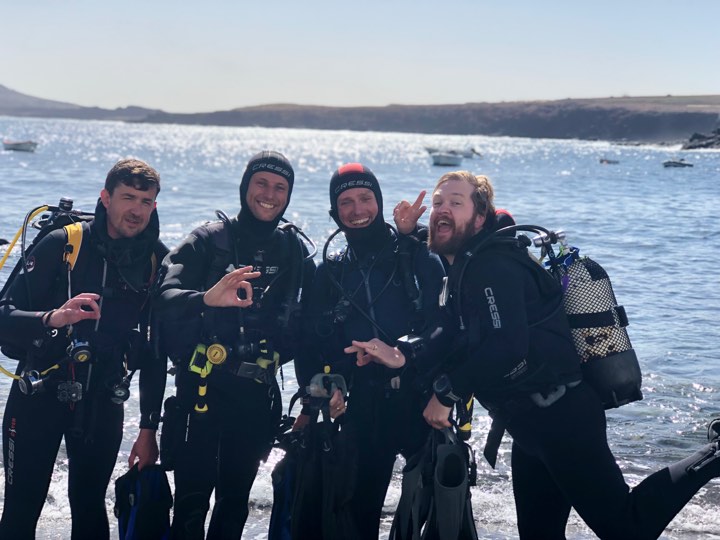 WHAT CAN I EXPECT AS A CERTIFIED DIVER?
WHAT IS THE MAXIMUM NUMBER OF DIVERS I WILL BE DIVING WITH? 
Qualified dives are only conducted in small and interpersonal groups. We try to always dive in a maximum ratio of 4:1
WHAT IS INCLUDED IN THE PRICE OF QUALIFIED DIVES? 
The price includes:
Hotel transfers from the South of Gran Canaria including the towns Puerto Rico, Mogan, Playa del Ingles, Maspalomas, Bahia Feliz, Arguineguin, San Agustin and many more!
Also included in the price is full rental equipment from the leading manufacture CRESSI, and a fully qualified PADI instructor guide!
Insurance is not included in the price but can be purchased for an additional €6 per day. 
WHAT DIVE SITE DO WE RECOMMEND TO EXPERIENCED DIVERS?
All of our diving sites have something special to offer but one dive site we would highly recommend is Tufia. We are experiencing great success at spotting Angel Sharks, different species of Rays, and Seahorses to name just a few! Also, Tufia, being more sheltered than our other dive sites often results in great visibility and an easier entry point.


Another dive site that we recommend is El Cabron. Voted one of the top ten dive sites in Europe, the dive site El Cabron is an obligatory stop for all divers travelling to Gran Canaria. One of only three marine reserves in the Canary Islands it is home to a rich diversity of marine life including four hundred varieties of Flora and Fauna. Because of its marine reserve status, boat traffic nor commercial fishing are allowed in the area, allowing marine life to thrive.
The Arco Chico, Los Roncadores and Punta de la Sal are three of the ten dive routes available to dive at El Cabron, with each different route catering to varying certification levels. Every dive offers something different from caverns, swim-throughs, arches, and caves!