The team at Leagues Ahead Diving were given the opportunity to test and review one of the latest diving computers on the market! We jumped at the opportunity to test out new scuba diving equipment, so let's see how the COSMIQ + dive computer fared against other brands of computers that we use.
First impressions:
Upon delivery one of the first things you notice is the quality of the packaging, unlike other dive computers we have tested the COSMIQ + computer arrives in a spacious hard shelled box which really gives you the impression that you have invested in a quality piece of equipment. To my surprise you receive not one but two straps! Included in the box is an additional camouflage nylon wrist strap alongside two screen protectors and a USB charger. The overall look and feel of the computer is one of quality. The large 2.2-inch LCD screen makes the COSMIQ + computer look modern and sleek, it is also very lightweight and perfect for taking on your scuba diving holidays! Both straps are long enough to fit over any exposure suit including dry suits, and the straps are made of very durable nylon material. The first impression of this computer was very positive and I could not wait to take it for its first dive!
The First dive:
The immediate benefit of this computer is it's ease of use, meaning that all levels of recreational divers even those with little experience could use this computer. There are only two buttons, one on the right and one on the left side of the screen which allows you to switch modes from free diving to scuba diving and adjust the settings. 
As soon as you descend all data is shown clearly on the screen, and I did not notice any difference in my dive profile to my trusty Cressi Leonardo computer which I was comparing it to. 
One thing I was very surprised with is how accurate the computer is. The temperature is extremely accurate changing every 0.1 degrees which was a great addition. Also the easy to read ascent rate bar and no deco limit bar is a great design feature. You can also set the computer to how conservative you would like it to be, ranging from low to very conservative and you can set the percentage of oxygen being used ranging from 21% to 40% Furthermore it is also very easy to adjust all settings via the DeepBlu app!
The App
The App is extremely easy to download, set up and to sync your dive computer to. The app allows you to upload your dives and edit the location among other variables and share them with the diving community. Like the COSMIQ + the app is clear, simple and easy to use and it means you always have access to your dive log. It feels like you're not just buying a dive computer but instead investing in a computer, digital logbook and joining a scuba diving community.
Things we liked:
 The charger is a great addition, it allows you to easily charge the computer anytime and anyplace, so you will never be disappointed if you forgot to bring a spare battery. The charging cable is very durable and looks like it would stand the test of time, the Li-ion battery also charges very quickly.
The display is easy to read in most diving conditions and I found the computer particularly great during night dives. The high-contrast EBTN display really stood out against the other brands of dive computers which were being used during the same dive.
Things that could be improved (not much!):
Although the battery charges very quickly I did find that the COSMIQ + computer ran out of battery more frequently than I had expected. It says that you can have 7 to 12 hours of battery life but as a scuba diving instructor I did feel that it could not keep up with the frequency of dives we completed throughout the day.
Conclusion
If you are looking to purchase a diving computer that is affordable but with the qualities of a high end dive computer, then the COSMIQ + computer is the right computer for you! Simple and easy to use, with a high end look and feel and with the added bonus of social media capabilities I would not hesitate to recommend this computer to any diver. We used the computer seven times when testing the product and we will be continuing to use it
Get you Cosmic + dive computer from Deep blu here!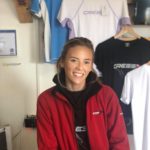 Sophie Keningale works hard to share her passion for scuba diving through her blog posts and hopes to offer useful information for scuba divers and those holidaying in Gran Canaria. Sophie owns and operates Leagues Ahead Diving with her partner James and the center has been open since 2017.