The Number 1 Scuba Diving Site in each of the 7 Canary Islands
With countless days of sunshine, stunning rock formations, and golden beaches the Canary Islands are quickly becoming the ''go to destination'' for holiday makers and divers alike. The geographical location of the Canary Islands next to the African Coast ensure the weather stays constant all year round and you can go scuba diving 365 days a year!
The Canary Islands are an archipelago (which means a group of islands) and they are located in the North Atlantic ocean. They are a part of Spain but they have their own laws and are made up of seven predominant islands. The Canary Islands were formed by volcanic eruptions, and with this being said it makes for some pretty incredible scuba diving!
So, why should you scuba dive in the Canary Islands?
The volcanic eruptions have created breath taking topography creating a labyrinth of caves, arches and caverns. 
Warm sub-tropical climate. The water temperature ranges from 16-26 degrees in the summer months.
Marine life ranging from small colorful Nudibranchs to majestic Manta Rays, Sharks and Dolphins.
Crystal clear waters with visibility often reaching 30 + meters. 
So let's take a look at the number 1 dive site in each of the Canary Islands and you can get booking your plane tickets!
What criteria did we use to decide the number one dive site in each island?
We reached out to many different dive centers and experienced divers who love to dive the Canary Islands in order to gain their opinion on what they believe to be the number one dive site on each of the Canary Islands.
We looked at different reviews of each dive site to make sure our selection was validated by the opinions of non biased clients.
Of course if you feel different please feel free to leave your opinion in the comment section of this blog.
Please click on one of the Canary Islands below to discover it's top dive site!
Gran Canaria is often referred to as the "Miniature Continent," as it boasts a large diversity in it's landscape. You can enjoy long golden beaches in the South of the island and dense pine forests on the West coast. 
The number 1 dive site of Gran Canaria - El Cabron
El Cabron is only one of three Marine Reserves in the Canary Islands. Located on the East Coast of Gran Canaria, it was voted as one of the top ten dive sites in Europe. The rocky and rugged terrain combined with the underwater volcanic landscape and average water temperature of 20 degrees is why El Cabron deserves a spot on the list.
In 2006 El Cabron was declared a site of special scientific interest and given the title ''Marine Reserve.'' This title prohibits fishing, boating or invasive activities such as mining from taking place. With this said, it is believed that the biomass of fish species living in Marine Reserves increases by 450% and this is certainly the case with divers frequently being able to spot giant Stingrays and Angel Sharks.
The site is comprised of many different entry points and routes, meaning you will need to spend a few days here to enjoy everything that this dive site has to offer. The most famous dive routes include Punta de La Monja and the Table top. The rocky entry points mean that this dive site is best suited for more experienced certified divers. 
Situated just 70 miles off the coast of Africa, Lanzarote is the youngest of the seven Canary islands and the fourth largest in size. It is home to stunning volcanic rock formations, but what do we think is the number one dive site in Lanzarote?
The number 1 dive site of Lanzarote - The Underwater Museum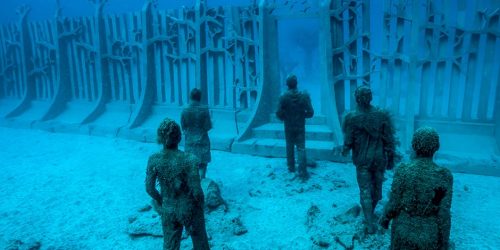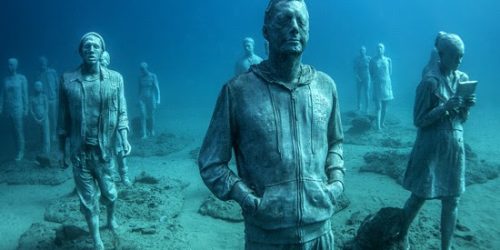 Lanzarote is home to Europe's only underwater sculpture museum! The underwater museum was created in order to promote education and protect the natural environment. Each installation was created from environmentally friendly resources in order to promote and sustain new ecosystems. The stunning underwater display combined with the educational foundation behind the creation is why the underwater museum is the number one dive site in Lanzarote.
Jason deCaires Taylor created 300 life size human figures ranging over 2,500 square meters. At a depth of only 12 meters this dive site is open to all levels of certified scuba divers and even Discover Scuba divers!
The first of its kind in Europe and already populated by many varieties of flora and fauna, the underwater museum in Lanzarote is guaranteed to delight both novice and the more experienced diver.
If you would like to book a dive in The underwater museum please get in contact with Rachel the owner of Manta diving Lanzarote
Tenerife is the largest and most populated Canary Island. It also boasts the highest mountain in Spain – Mount Teide. A go to destination for those looking for a week in the sun, but what is it like to dive Tenerife?
The number 1 dive site of Tenerife - Tabaiba
The Tabaiba wreck is dive site that ensures each dive is an adventure! This wreck was sunk as an artificial reef in 2006 in order to promote scuba diving and enrich the marine life in the area! 
What might come as a surprise to you, is that the logistics to get to this wreck are incredible easy! It is a shore dive which you can enter either by a ladder or through a natural pool. This unique advantage makes it the perfect option for divers with limited mobility and even those who suffer from motion sickness. 
The Tabaiba wreck is home to the abundance of marine life that Tenerife is known for. Divers are able to spot Barracudas, Trumpet fish, Stingrays, Seahorses and much more! 
If you have the certification, you can enter the wreck and dive along the corridors discovering rooms and technical departments on several different levels.
To explore this amazing wreck, you must have a minimum certification of advanced open water or equivalent. We recommend that if you are a little heavier on air, to make use of a 15 litre tank to get the most from this site! 
If you would like to dive this awesome wreck then please get in contact with Diving Atlantis Tenerife
Fuerteventura is the second largest Canary Island and is known for being the windiest! It is one of the least developed Canary Islands but that doesnt mean it isn't home to some fantastic dive sites.
The number 1 dive site of Fuertaventura - Salinas reef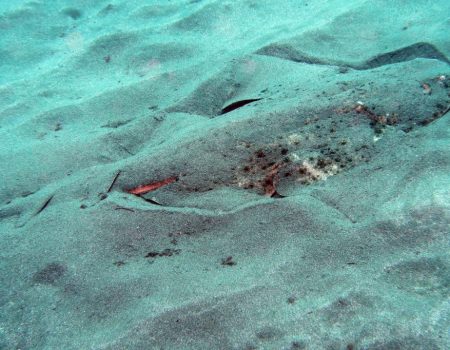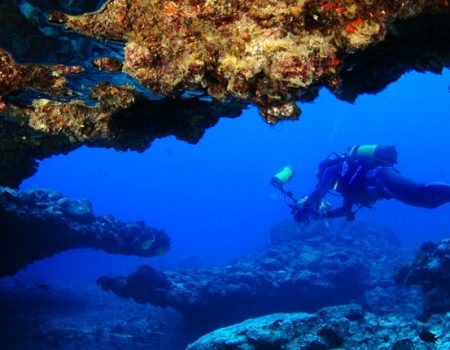 Unlike most dive sites on the Canary Islands Salinas Reef located South of the airport in Fuerteventura is composed purely of a rocky bottom composition. The 1.5 Kilometer rocky reef is home to twelve different dive sites so, similar to El Cabron in Gran Canaria you will need several days or a minimum of a two tank dive to explore Salinas reef in all its glory
The beautiful volcanic rock formation is highly vegetated allowing a wide variety of marine life to flourish including Nudibranchs, Spider Crabs, Groupers and Parrotfish. There is also the chance to see Black coral and red gorgonians (soft coral). Do you want to know the best thing? This dive site is accessible for all levels of certification and experience level, ensuring it is a ''must see'' for seasoned professionals and those looking to try scuba diving for the first time.
With steep cliff walls, caves, arches, caverns and a diverse array of marine life if you are visiting Fuerteventura, scuba diving Salinas Reef is a must.
If you would like to book a dive in Salinas Reef get in contact with Deep Blue Diving Fuerteventura
The island La Palma is not as heavily populated with tourists as some of the other Canary Islands, however this certainly isn't because La Palma is a less desirable holiday destination. In fact, it's far from the truth with La Palma being home to some of the most stunning scenery in Europe. Commonly referred to as the ''wild beauty of the Canaries'' if you are looking for a relaxing holiday and some super awesome scuba diving then the dive site Las Cabras in La Palma is the dive site for you.
The number 1 dive site of La Palma - Las Cabras
The dive site Las Cabras is located on the Southern end of the island and you will enter the water in a small bay via the beach. Upon entering you shall descend and follow the incredible lava tubes down to depths of 30 to 40 meters. The topography of this dive site means that in places you can reach the limit of recreational diving quite quickly, combine this was the possibility of strong currents this dive site is recommended for experienced certified divers who are comfortable with deeper dives.
At a depth of 30 meters you will be greeted with breathtaking black coral and it is common to come across devil Manta Rays. Stunning underwater landscape with vertically sloping walls and jaw dropping rock formations Las Cabras certainly deserves a spot as one of the top dive sites in the Canary Islands.
If you would like to dive in Las Cabras get in contact with La Palma Diving
La Gomera is the second least populated island, with a little over 20.000 people, it is only accesible via Tenerife, so is it worth the the visit? After researching the number 1 dive site in La Gomera, we can confirm that it is!
The number 1 dive site of La Gomera - Punta Guincho
The third smallest island La Palma is the Northernmost Canary Island. The close proximity to the Canary Islands stream ensures that the average water temperature is approximately 2 degrees more than the rest of the Canary Islands. The average is between 23 to 24 degrees with the water temperature reaching a tropical 26 degrees in the summer months! After much research into the different dive sites on La Palma (there is over 20 of them!) The most famous dive site on La Palma has to be Punta Guincho. The underwater landscape is made up of of large volcanic rock formations, all of which are home to Anemones, Crabs, Moray eels and Nudibranchs. But what makes this dive site stand out, is the volcanic arch situated at 20 meters in depth full of subtropical species of fish including Trumpet fish, Damselfish, Electric Rays and Parrot fish.
If you would like to dive in Punta Guincho please get in contact with Splash Gomera
El Hierro island is the smallest of the Canary Islands. The island is declared as a UNESCO Biosphere Reserve with 60% of the island being protected for conservation purposes. Upon reaching out to fellow scuba diving enthusiasts it was easy to see that many believe El Hierro offers the best diving on the Canary Islands. Many divers have been fortunate to spot Manta Rays and different species of Sharks which aren't common in the other six main Canary Islands. 
The number 1 dive site of El Hierro - El Bajón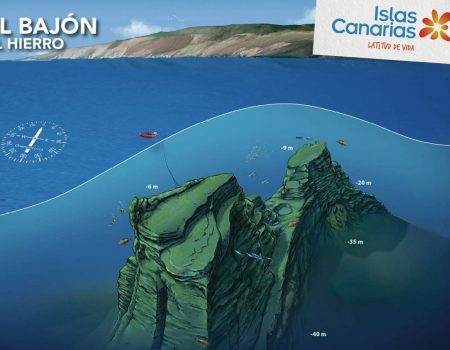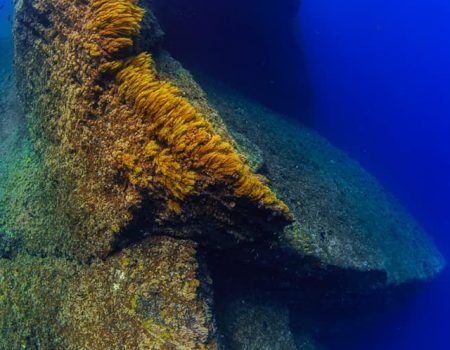 El Bajon is the most famous dive site in El Hierro, and with a vertical cliff that drops down to the crystal clear blue depths of 100 meters it is easy to see why! Located at the Southern tip of the island by the fishing town of La Restinga this dive site allows you to be engulfed in the prolific amount of marine life that inhabit the underwater world of El Hierro.
Many local dive center owners say that you can observe all the species of the island in this one dive site, including the occasional visit from Manta Rays and Whale Sharks. Because divers get the opportunity to spot marine life such as rare Sharks, Dolphins and devil Manta Rays, this confirms that diving in El Bajon is world class diving on your doorstep.
The rock formation in the dive site El Bajon was created by volcanic activity and this has forged, caves, tunnels and arches all waiting to be explored. Be sure to bring your torch because within the crevasses you often find Moray eels, Lobster and Octopus.
You can expect excellent visibility all year round in El Bajon, with the visibility rarely dropping below thirty meters. So what are you waiting for, go and explore the beautiful island of El Hierro and the stunning underwater world of El Bajon.
If you would like to dive in El Bajon get in contact with Alexis owner of The Green Shark the only PADI 5 star centre on the island!
Although diving in the Canary Islands is not as tropical or full of prolific marine life which you can expect to see in the Red sea, the water is mild all year round with excellent water clarity and stunning volcanic rock formations. Nearly 700 species of fishes have been catalogued in the waters of the Canary Islands and even in El Hierro you can spot Whale sharks and Manta rays! As these selection of dive sites have shown, you do not need to travel far to experience excellent diving within Europe.
So there you have it, the number one dive site in each the seven main Canary islands, all of which should definitely be on your bucket list. But be quick, more and more divers are coming to realize just how special diving in the Canary Islands is.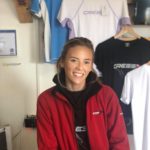 Sophie Keningale works hard to share her passion for scuba diving through her blog posts and hopes to offer useful information for scuba divers and those holidaying in Gran Canaria. Sophie owns and operates Leagues Ahead Diving with her partner James and the center has been open since 2017.