What to expect from your first scuba diving lesson!
Firstly I would like to congratulate you for deciding to try scuba diving for the first time! The activity you are about to partake in will open a whole new world to you that the majority of the population will never get to experience. 
As with anything that is new you may wonder what is really going to happen on your very first scuba diving lesson. This is why, in this guide I have outlined all you need to know about what to expect during your first scuba dive!
*Please note these guidelines are applicable for any PADI dive center around the world and any other scuba diving organisation will adhere to similar standards.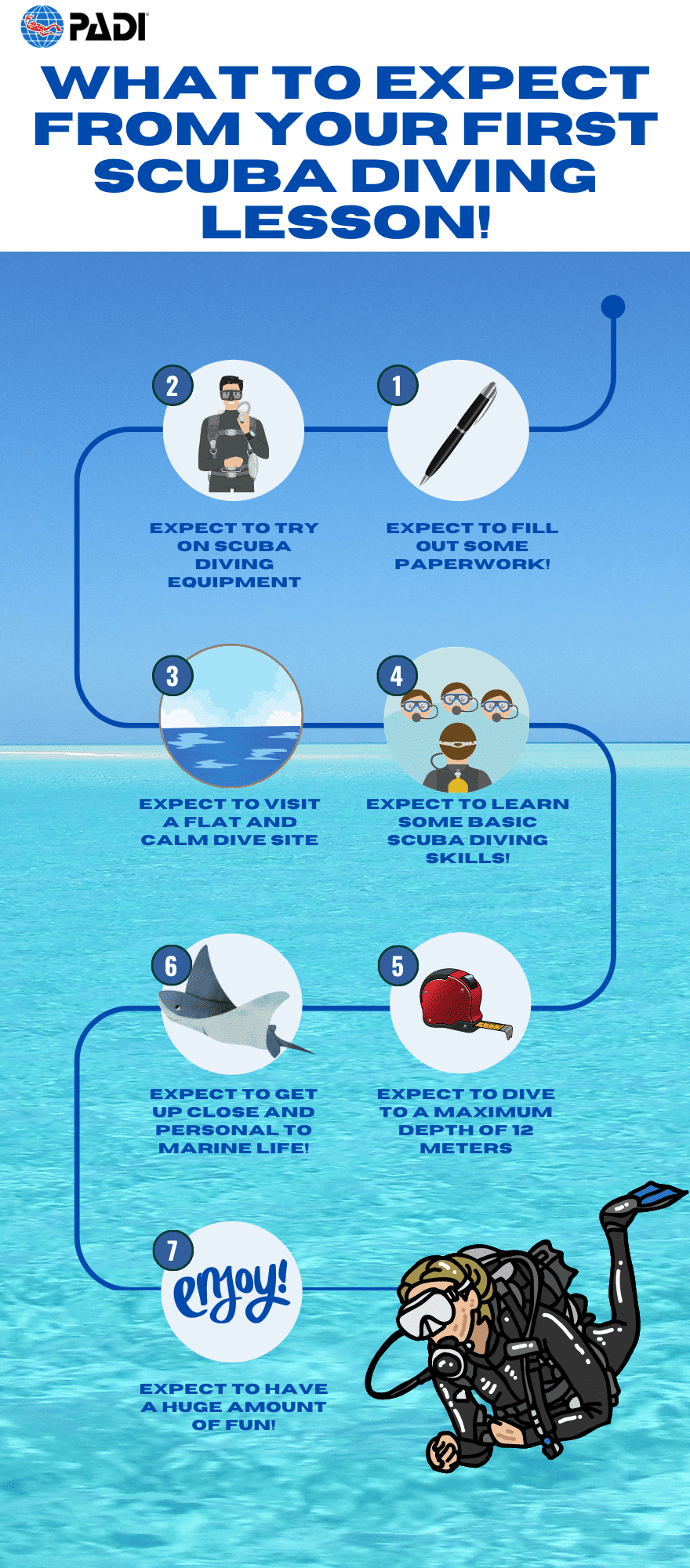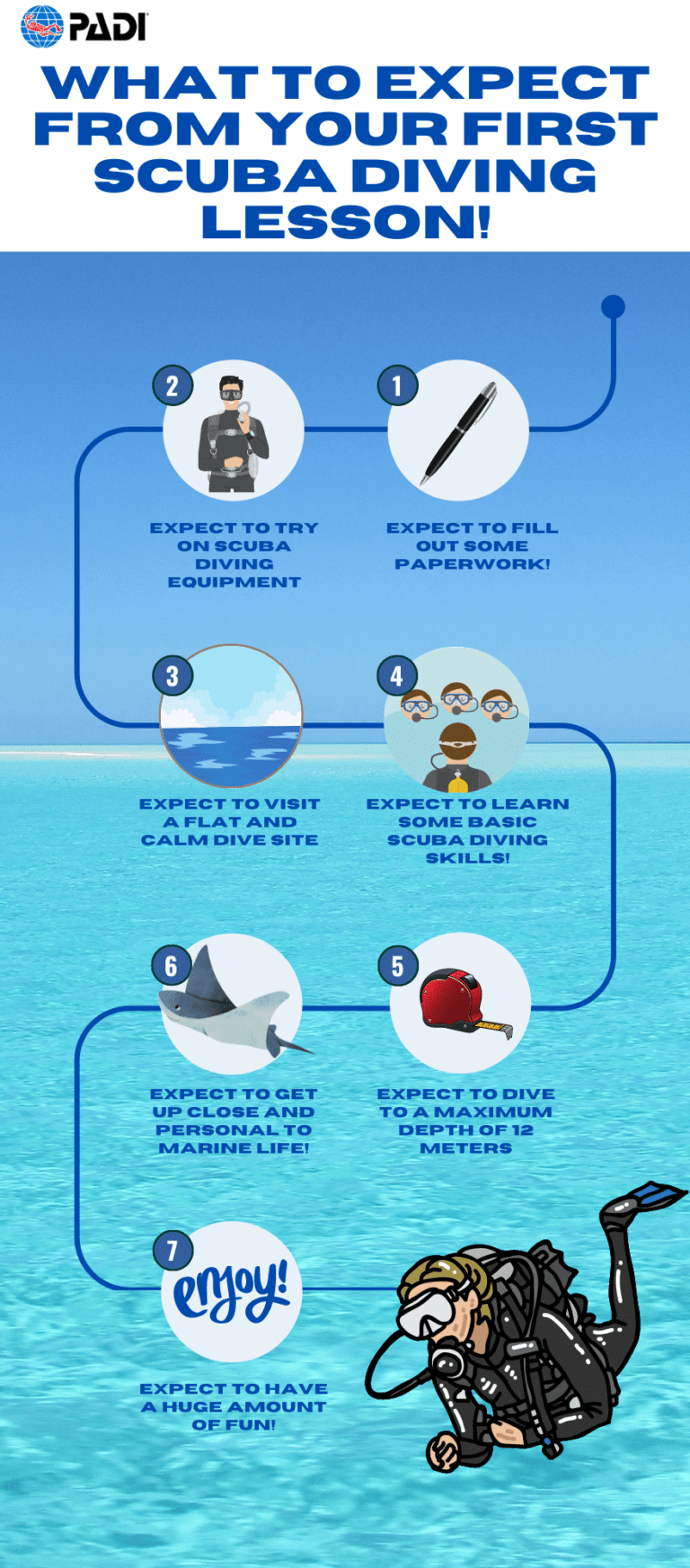 Can anyone try scuba diving?
Scuba diving is a low-risk activity, that nearly everyone can enjoy, it is important to remember that:
No prior diving experience is necessary.
Swimming is not a requirement for trying diving for the first time.
There is no weight limit.
And it is never too late to start scuba diving!
However, in order to keep scuba diving low risk, some things participants must consider include:
Participants must be a minimum of ten years old.
Participants must be able to pass the PADI medical questionnaire prior to the dive. 
Scuba diving is not suitable for pregnant women or those trying to get pregnant.
No alcohol or drugs can be consumed prior to the excursion.
A surface interval of 12 hours is required before flying after the dive.
What is the first thing I will do when I arrive at the dive centre?
First you need to fill in some paperwork at your chosen dive center. For your first Scuba diving lesson you will have to complete two pieces of paperwork. The paperwork has two main parts:
The first part is a liability release form. Although scuba diving is a very safe sport, as with all water sports we do have to discuss the risks involved.
Secondly you must complete a medical questionnaire to determine that you are fit to dive. This medical form covers topics such as pre-existing medical history, prescription medicine, and past surgeries. Please see the medical form below!
What equipment should I expect to use when scuba diving?
After you have completed your paperwork, expect to try on your scuba diving equipment! You will most likely need to try on your wetsuit and boots to make sure they fit! The rest of your equipment will be loaded into the van/boat by the dive center staff. The following list is the equipment that PADI requires you to have for your first dive:
A mask
Fins
Scuba cylinder (this is important!)
A BCD (Buoyancy control device)
Low pressure inflator hose
Regulator with a submersible pressure gauge
I understand that this is a lot of Scuba diving jargon, but don't worry, your instructor will explain all about this later. And for now, here are some pictures of what your scuba diving equipment will look like!
What sort of dive site can I expect to visit?
The dive site that the dive center chooses to bring you will vary around the world. But normally you should expect very calm and easy conditions for your first dive, to make it as relaxing and enjoyable as possible! Some example of appropriate diving sites are as follows:
Training in a swimming pool.
A very calm bay with little waves (like a swimming pool only with fish!)
From a boat in calm conditions and in shallow water.
For example here at Leagues Ahead Diving in Gran Canaria, we use dive sites such as Amadores, a man-made bay that is sheltered from any waves and guarantees calm water all year round.
What training should I expect to receive on my first scuba dive?
Firstly you should receive a full and comprehensive briefing explaining the following points:
Breathing rules and equalisation techniques
Equipment purpose and use
Hand signals
Skill overview
Importance of staying by your instructor.
After you have received your briefing, expect to complete the following skills:
Breathing underwater
Regulator clearing
Mask clearing
Equalization techniques
Inflation and deflation of your BCD (Buoyancy control device)
Do not worry, all these skills are practiced in confined water (water in which you can stand up in.) Your instructor should discuss each skill on land, demonstrate the skill beforehand and then it is your turn.
How deep can I expect to go on my first scuba dive?
During your first dive you are allowed to dive to a maximum depth of 12 meters!
Please remember it is not a requirement to dive to 12 meters, you should only dive to a depth that you are comfortable and relaxed with!
And finally expect to have a lot of fun!
Don't worry if you are feeling a little nervous on your first dive, or if it takes you a little longer than you expect to complete the skills. Scuba diving does take some time to master and we have all been there.
However after the initial nerves have worn off you will find that scuba diving can be just as relaxing as it can be exhilarating! The feeling of weightlessness and being to come face to face with species that many others only see on television is incomparable.
A few final tips:
Thoroughly research the dive centers you are considering to choose
Listen carefully to your instructor
Have fun!
If you are ever visiting Gran Canaria we would love to have you join us on your very first scuba dive.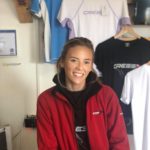 Sophie Keningale works hard to share her passion for scuba diving through her blog posts and hopes to offer useful information for scuba divers and those holidaying in Gran Canaria. Sophie owns and operates Leagues Ahead Diving with her partner James and the center has been open since 2017.