Are you staying in Maspalomas? Then you won't want to miss the dive site El Cabron!
We dive there 6 Days a week and provide free hotel transfers from Maspalomas!
Maspalomas is the sunshine pocket of Gran Canaria, with an average of 320 days of sunshine, sand dunes and endless shops and restaurants. It is the perfect summer or winter break for tourists, but does Maspalomas have any scuba diving sites?
Can I Scuba Dive from Maspalomas Beach?
Unfortunately the answer is no. Maspalomas is not home to any dive sites. The closest dive site is either Amadores for Discover Scuba divers or El Cabron, the famous marine reserve. These dive sites are only a short twenty minute drive from Maspalomas. If you would like to have some spectacular scuba diving when on holiday in Maspalomas, please get in contact with us.
Why don't we recommend scuba diving from Maspalomas Beach?
The long sandy beaches are not protected by any rock formation, natural or artificial. This means that the waves and flow of the tides, draw the golden fine sand from Maspalomas beach to the surf zone. This sediment reduces the visibility greatly in all areas of the beach (making for not great diving!)
Because there is no rocky bottom composition, this has a huge impact on the marine life that you would expect to see when diving Gran Canaria. The dive sites that we recommend are composed of natural rock formations creating caves and overhangs which create the perfect habitat for an abundance of marine life to thrive. Unfortunately the Maspalomas beach is only plain sand and you will struggle to dive to a depth deeper than 5 meters.
Is it possible to snorkel from Maspalomas Beach?
Yes – In theory you can snorkel in any location. The easy shore entry combined with the presence of lifeguards make this a possible location for snorkelling.
Because the beach is not sheltered by any rocks, I recommend snorkelling from Maspalomas Beach in the summertime or when the weather forecast is showing a wave height of .5 meters or less. You can check the wave height using this website here! (Look for light blue areas surrounding the shore line.)
During the winter the wind can pick up increasing the size of the waves and it makes this beach most popular with surfers. I also recommend renting professional snorkelling equipment and a wetsuit during the winter season when the water temperature drops to 19 degrees.
Where is the best place to snorkel in Maspalomas?
The Maspalomas Lighthouse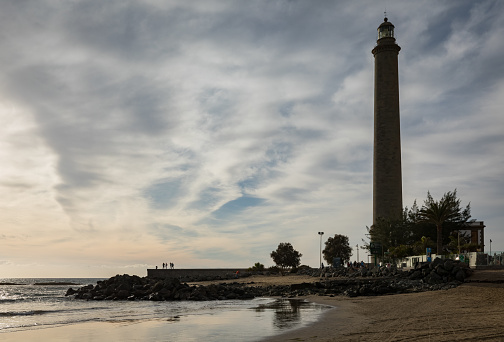 Ease of Access: ★★★★★
Parking: YES
Marine life: ★✰✰✰✰
Bottom composition: Sand
Lifeguard: YES
Located next to the Maspalomas dunes is the Maspalomas Lighthouse in Plaza del Faro. If you snorkel to the right side of the Lighthouse you will be able to find a section of rocky bottom composition that is home to Parrot fish, Wrasse and Damsel fish. It is possible to find Stingrays resting in the water below feeding on the crustaceans.
Playa Meloneras: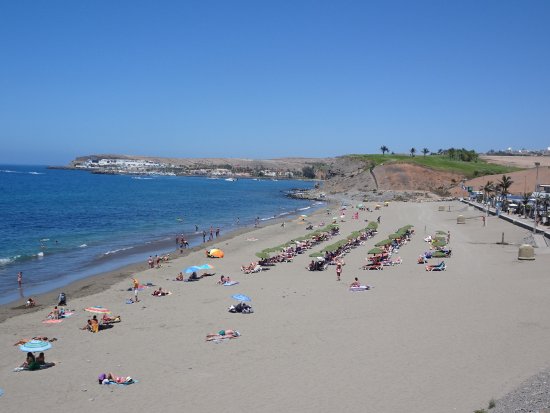 Ease of Access: ★★★★★
Parking: YES
Marine life: ★★✰✰✰
Bottom composition: rocky bottom composition/sand
Lifeguard: YES
If you are looking for a slightly better snorkelling experience than Maspalomas Lighthouse, it is worth taking a small taxi or bus journey to Meloneras Beach. Meloneras Beach is sheltered from the waves and is home to rocky reefs that will allow you to spot far more fish species than the Maspalomas beach. As with all beaches please take care upon entering the water and when Snorkelling. It is important to avoid the fishermen that also use this beach and to avoid going into deep water or high waves if you are not comfortable.
For those looking for the best scuba diving experience in Gran Canaria:
We recommend travelling slightly further afield from the Maspalomas beach to the most renowned dive sites on the Island. You can read more about our different dive sites here such as El Cabron, a famous marine reserve that was voted one of the top ten dive sites in Europe (something not to be missed.)
What is the difference between the dive site El Cabron and Maspalomas?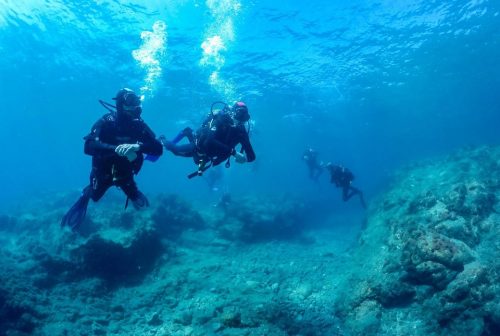 Visibility
Summer: 30 + meters
Winter: 15-20 meters
Marine life
Angel sharks, Sting rays, Octopus, Barracuda, Moray eels, shoals of smaller fish species. The biomass of the fish species in El Cabron is 450% larger due to it's marine reserve status.
Topography
Amazing volcanic rock formations. Caves, caverns, swim throughs and arches.
Surrounding landscape
Lunar like landscape.
Visibility
5 meters
Marine life
Small fish species such as Damsel fish, Wrasse and Parrot fish. It is possible but very unlikely to spot larger species of fish.
Topography
Sand
Surrounding landscape
Touristic, bars, hotels and shops.
Don't forget here at Leagues Ahead Diving we offer all snorkelling and scuba diving excursions and you can enjoy the best dive sites of Gran Canaria by taking advantage of our complimentary shuttle service. We can transport you to the best locations on the island and drop you back to your hotel for free of charge! Click here to learn more about our guided excursions!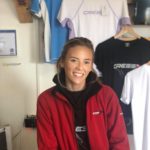 Sophie Keningale works hard to share her passion for scuba diving through her blog posts and hopes to offer useful information for scuba divers and those holidaying in Gran Canaria. Sophie owns and operates Leagues Ahead Diving with her partner James and the center has been open since 2017.