Top 4 locations for scuba diving in Gran Canaria!
What are the four best scuba diving sites in Gran Canaria?
If you are a scuba diver looking for the best scuba diving in Gran Canaria, or a beginner looking to try scuba diving for the first time, then look no further! Leagues Ahead Diving in Gran Canaria have compiled a list of the four best dive sites on Gran Canaria that are guaranteed to suit all of your diving needs!
How are the dive sites rated?
The experience level indicated does not imply that the dive site is dangerous. In the guide, the experience rating applies to the fact that the dive site has a greater maximum depth or that the entry to the dive site itself is more challenging than an easy calm beach entry (which would be rated a one-star like Amadores.)
Enjoy the guide!
Here at leagues Ahead Diving We Dive these sites every week!
1. Scuba Diving In Gran Canaria - Amadores
Maximum depth: 14 meters
Minimum level of certification: Discover Scuba Divers 
Entry: Shore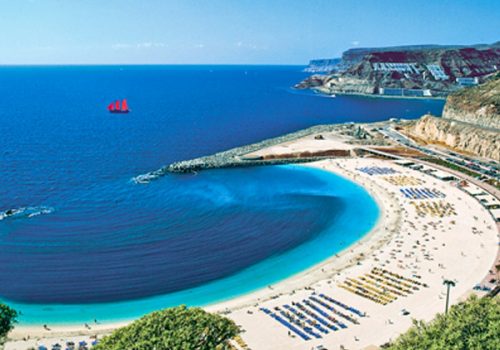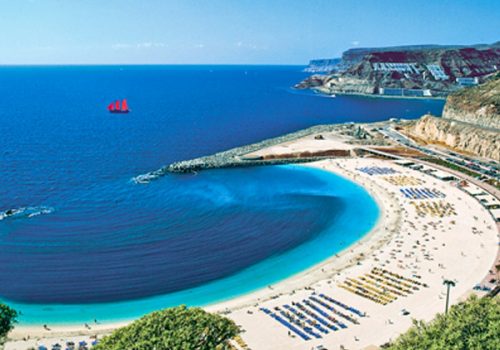 Playa de Amadores, nestled between Puerto Rico and Playa de Mogan is an 800m long beach constructed from imported Caribbean sand. This dive site in Gran Canaria is perfect for those beginning their diving careers or those looking to refresh their skills.
Here at Leagues Ahead Diving, we choose to take our Discover Scuba divers to this dive site, as Amadores provides them with the calmest and most relaxing site to introduce them to diving!
What is the entry to the dive site like?
Amadores is a sandy beach shore entry. It is only a short 1 minute walk from the carpark to the entry point which is located on the left side of the beach.
What route will we take when diving in Amadores?
Our PADI instructors will guide you on a dive outside of the bay following the left arm of the artificial breakwater.
This route has a maximum depth of 13 meters and allows you to explore the marine life hiding in the breakwater.
The topography on the left of this dive consists of an artificial reef allowing you to identify plenty of marine life that Gran Canaria is renowned for!
What marine life can I expect to see in Amadores?
At 5 meters you will be greeted by a large shoal of juvenile sleeping fish. When Scuba diving in Gran Canaria you will also be able to spot large Cuttlefish, Octopus and huge numbers of Atlantic Damselfish and Bluefin Damselfish.
2. Scuba Diving In Gran Canaria - risco verde
Maximum depth: 19 meters
Minimum level of certification: Discover Scuba Divers 
Entry: Shore
Check out the 360 video below!
Situated in the Spanish town of Arinaga, Risco Verde is a stone's throw away from the marine reserve El Cabron! 
This dive site was designed with scuba divers in mind. With designated car parking, benches for equipment preparation and only a ten-second walk to enter the water, Risco Verde is one of our more accessible dive sites!
What is the entry to RISCO VERDE like?
The entry point to Risco Verde can be straightforward, therefore this entry point relies heavily on the tide heights. A high tide is essential to enter safely unless the sea conditions are entirely calm. Luckily for you, our experienced Instructors always check the conditions regularly and choose the correct site based on this.
What dive routes can we take when diving in risco verde?
For Discover scuba divers we can have a wonderful 35-40 minute dive just inside the bay with a maximum depth of 7 meters! 
For certified divers, one route we can take is diving outside of the bay to the left. Here you can reach a maximum depth of 19 meters and enter a large roncadores cloud! We often spot large Stingrays on our route as well as Angel Sharks.
On the second dive to the right side, there is a maximum depth of 10 meters and a beautiful shallower reef packed full of smaller colourful life such as Moray eels, Nudibranchs and much more! This dive is fantastic for keen macro photographers or those that like a shallower leisurely dive.  
COMMONLY SIGHTED MARINE LIFE IN RISCO VERDE
Risco Verde is well known among divers for its wide variety of colourful fish, It is commonly referred to as the aquarium for this reason! Bright Blue and Orange Damsel fish, Parrot fish, Wrasse, schools of Anchovies and Baracuda…and this is only inside the bay!  
3. SCUBA DIVING IN GRAN CANARIA – TUFIA
Maximum depth: 22 meters
Minimum level of certification: Discover Scuba Divers 
Entry: Shore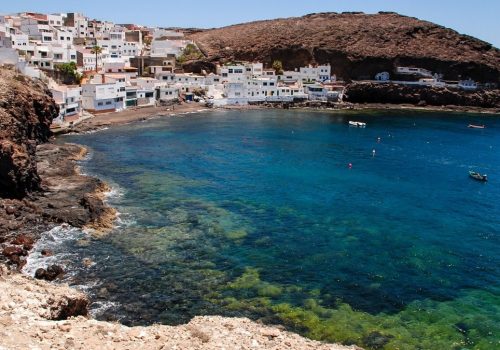 Like Amadores Bay, Tufia is a beach entry and accessible for all levels of diving experience.
It is a little more exerting than Amadores Bay because of a hill you have to walk down to get to the dive site and of course, walk back up once the dive is completed! But don't worry our helpful instructors are always there to lend a hand.
What should i expect on this dive?
This dive site was created by a volcanic eruption. Because of the eruption, this dive site epitomizes what scuba diving Gran Canaria is like. The volcanic rock sculpture is the perfect habitat for the rich marine life of Gran Canaria to inhabit.
This dive site has two different routes. One route has a maximum depth of 22 meters so we recommend this to certified divers Open Water or above. The second dive has a maximum depth of 12m so is perfect for those who are of a Scuba Diver rating or those who are looking to refresh their scuba diving skills.
What is the marine life like in Tufia?
Tufia is home to an abundance of marine life. It is not uncommon to spot an Angel shark hiding on the reef below or the giant Stingrays which our divers can expect to see when they book a dive in Gran Canaria. On rare occasions, you can spot Turtles.
4. SCUBA DIVING IN GRAN CANARIA – EL CABRON
* As El Cabron is the most renowned dive site in Gran Canaria, we have outlined four of the most common routes that we dive!
Route 1 Discovery Bay ★☆☆☆☆
Route 2. Punta de la monja ★★★☆☆
Route 3. Table top ★★★☆☆
Route 4. Punta de la Sal ★★★★☆
Check out the 360 video below!
Is El Cabron a Marine reserve?
Yes! El Cabron was given the title of 'marine reserve' due to a large number of flora and fauna species that inhabit this dive site. El Cabron boasts some of the biggest and most varied fish species in the whole Canary islands!
El Cabron route 1. Discovery Bay
Experience Level ★☆☆☆☆
Recommended certification level: Open water diver, also suitable for first-time divers and snorkeling.
Maximum depth: 18m
Entry: shore
How do we enter the dive site?
A short walk along volcanic sand brings us to the entry point, located on the left side of the beach. Discovery Bay is the perfect dive site for beginners to have an introduction to the amazing dive reefs of El Cabron.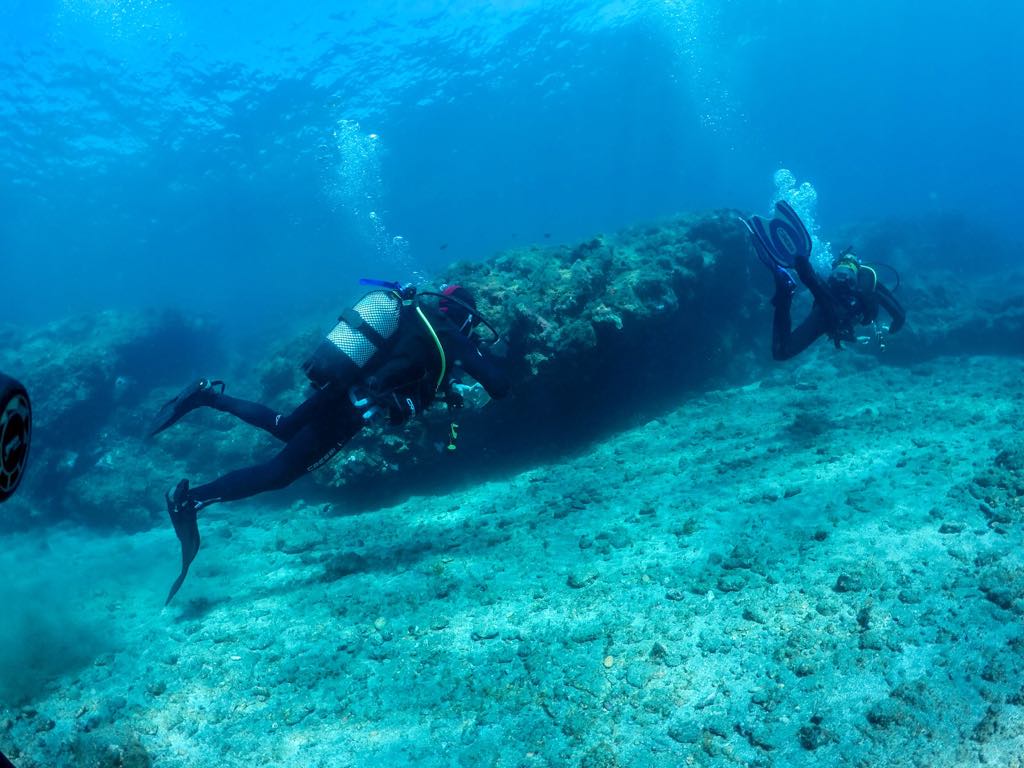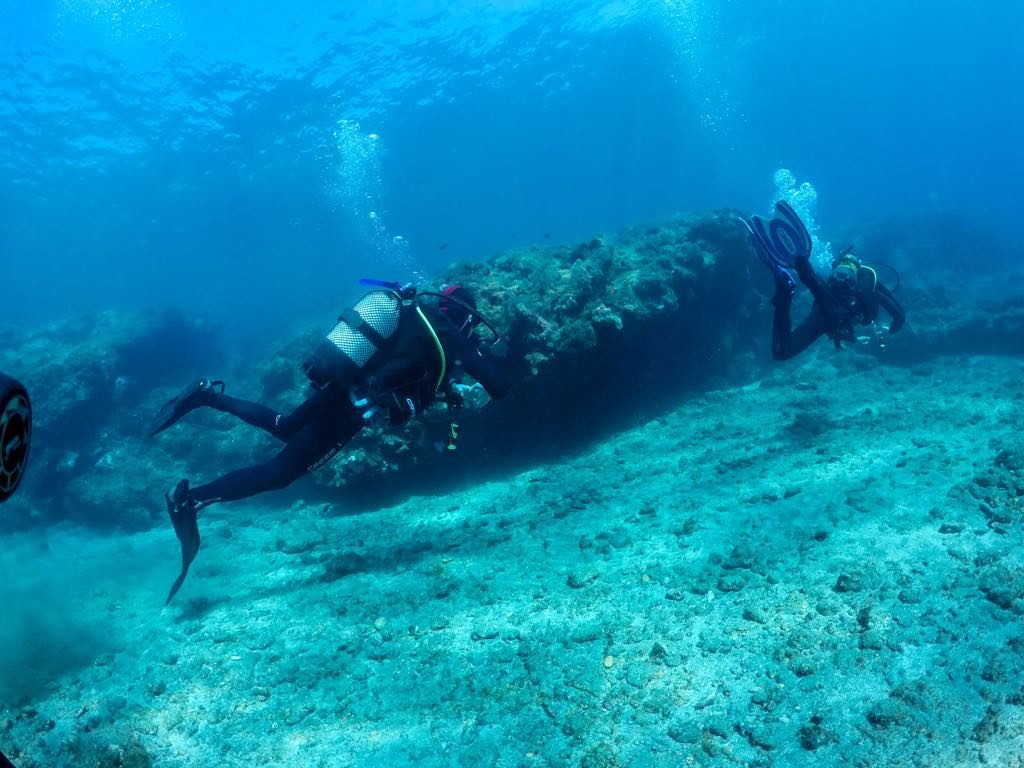 What is the topography of Discovery bay?
 We will descend to a depth of 4 meters where you will see the start of the volcanic rock formation on your left. This rock formation is your dive route and you shall be following this for the duration of your dive. On your right is a flat sandy bottom composition, perfect for spotting Angel sharks and Eagle rays.
A point of interest for our divers is at 8 meters. Here you will find a cavern, where we often find a Stingray resting at the back!
El Cabron Route 2 -Punta de la Monja:
Experience Level ★★★☆☆
Recommended certification level: Experienced Open water diver to Advanced Open water diver +
Maximum depth: 22m
Entry: Rocky shore entry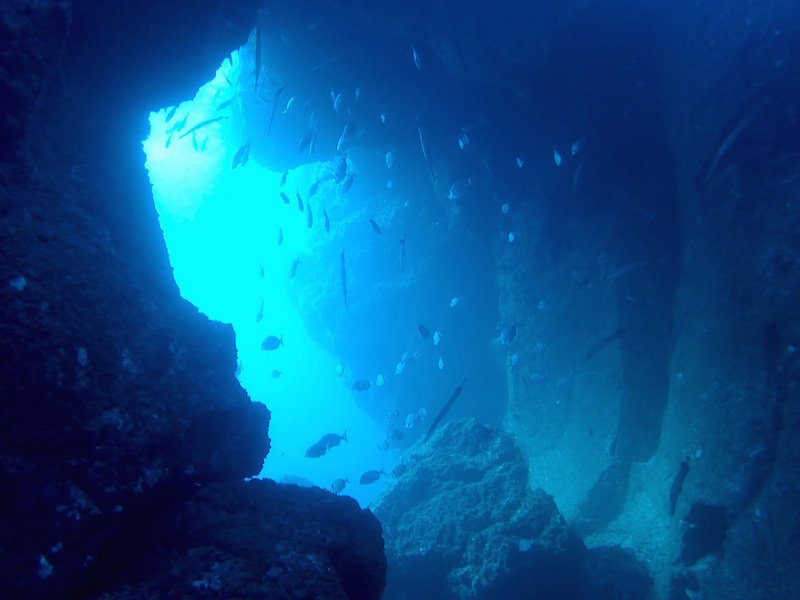 What is the route of Punta De La Monja?
In our opinion, this is the most varied dive that also offers the most marine life in El Cabron. The best time to enter this dive site is at low tide.
When we enter the water we will descend through a hole in the volcanic rock formation. This hole is large enough to safely dive through and it will bring you to the main dive route. Once you have descended through the hole, you will be greeted with calm and deep blue water!
After a few minutes, you will be greeted with one of El Cabron's most stunning rock formations – the arch of El Cabron (pictured.) The arch is home to a prolific amount of marine life including countless large Trumpetfish, Atlantic Damselfish, and White Seabream.
After we descend deeper from the Arch to 20 meters we will encounter another spectacular sight, the shoal of Rhonchorous (sleeping fish.) This lazy species of fish always stay in the same area in shoals of thousands. 
Punta de la Monja is also home to the longest cavern of El Cabron. 
El Cabron Route 3 - The table top
Experience Level ★★★☆☆
Recommended certification level: Open water diver
Maximum depth: 23m
Entry: Rocky shore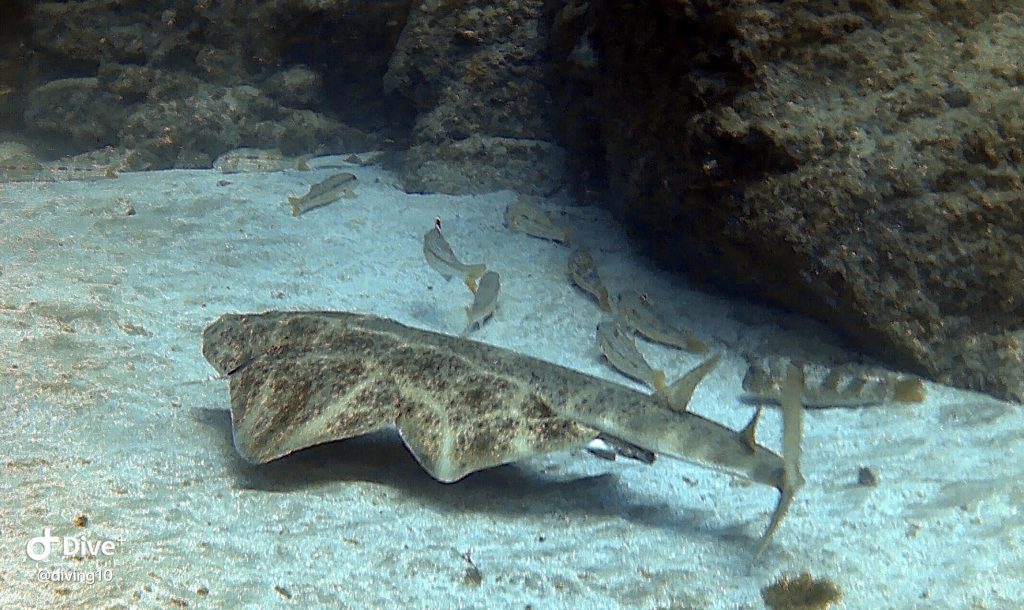 The most popular entry point in El Cabron is the bathtub. A semi-circle rock formation that shelters the entry point from the waves hitting the shore, making this the easiest and safest entry point for this area of the marine reserve.
We shall descend to 5 meters in depth where you will normally be greeted with 15-25 meter visibility. The bottom composition of this dive is primarily rock, meaning the visibility is normally better than the other dive locations such as Discovery Bay. We like to cut the reef and swim on the table top for five minutes at a depth of 11 meters. Diving on the table top will allow us to spot the Fangtooth eel, Moray eel and a wide variety of colorful Nudibranchs. After five minutes we will reach the edge of the reef where you will be able to see the sandy bottom and a vertical descent down to 20 meters.
Once we descend to 20 meters we will immediately turn into one of the most impressive caverns that El Cabron has to offer. There is a hole at the back of this cavern that allows natural sunlight to brighten the cavern. Using our torches we will look for Stingrays, Glass-Eye fish, and Cardinalfish that inhabit these darker areas.
We will follow the volcanic rock formation to the right. From this point on the volcanic reef on your right side is incredibly impressive. We will continue to explore smaller caverns until we reach a depth of 23 meters where we usually turn the dive around. We commonly spend a lot of time at 23 meters as there are so many crevices to explore and large Barracuda and Groupers to be spotted.
Finally, we will ascend back to the table top at 11 meters, exploring another route when diving back to the exit point. Once we reach the bathtub, we shall relax at 5 meters and complete our safety stop, while spotting Cuttlefish and Octopus.
El Cabron route 4. Punta de la Sal
Experience Level ★★★★☆
Recommended certification level: Advanced open water diver
Maximum depth: 33m
Entry: Rocky shore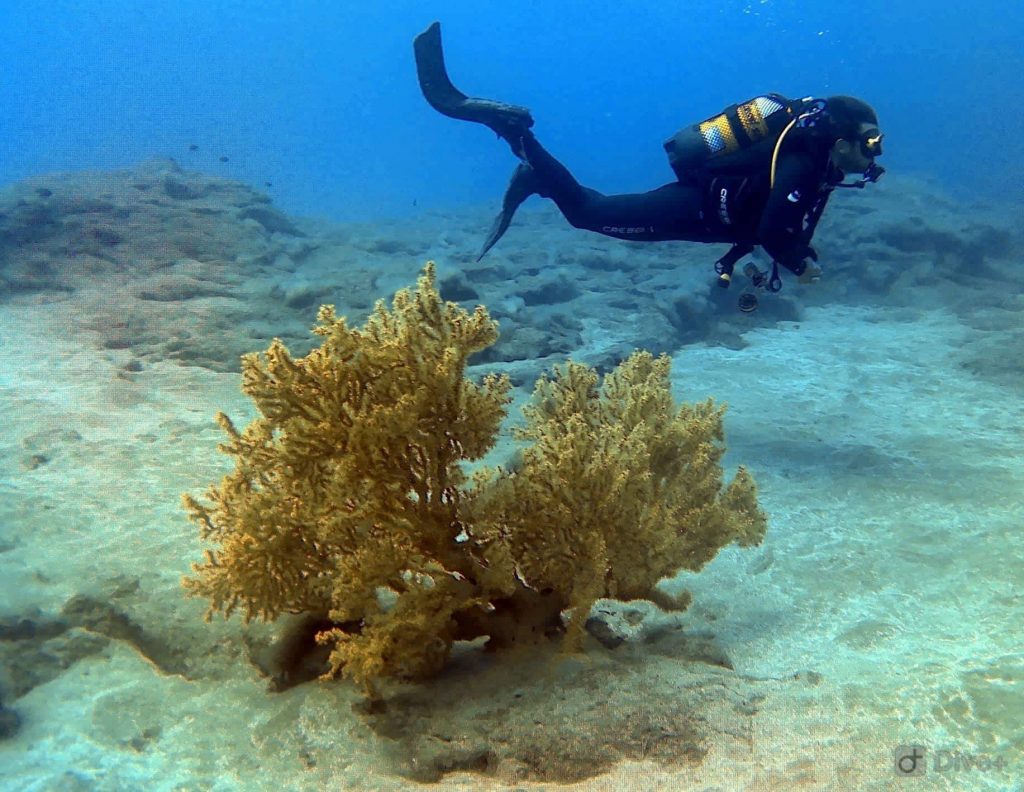 How do we enter this dive?
For this dive, we enter the water from the bathtub, the same entry point as The Table Top.
After diving for approximately 10 minutes and reaching the depth of 18 meters, we dive away from the reef and down to the sandy bottom composition. Once on the sandy bottom at 24 meters depth, you will be surrounded by hundreds of Garden eels.
From this point, we shall continue to gradually descend over impressive large rock formations until we reach a depth of 33 meters! At this depth, you really begin to feel like you are in a different world, with a dark eerie feel and a high chance of spotting giant Rays. We will then search for the beautiful fan coral formation, which seems really alien in contrast to the rocky sand bottom composition of this dive.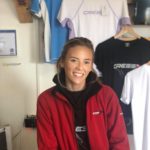 Sophie Keningale works hard to share her passion for scuba diving through her blog posts and hopes to offer useful information for scuba divers and those holidaying in Gran Canaria. Sophie owns and operates Leagues Ahead Diving with her partner James and the center has been open since 2017.