Table of contents :
Introduction
Directions to El Cabron
Potential hazards
Dive route 1: Discovery Bay
Dive route 2: Punta De La Monja
Dive route 3: The Table Top
Dive route 4: Punta De La Sal
Conclusion
Introduction to El Cabron
When divers think about scuba diving in Gran Canaria, they often think of white sandy beaches, clear blue water, and sub-tropical climates. However although in some areas of Gran Canaria, this isn't far from the truth. The best dive site is undoubtedly the marine reserve El Cabron. With impressive volcanic rock formations, rugged rocky entries, caves, caverns, volcanic sand, and deep blue water. The marine reserve El Cabron should be on the bucket list for any scuba diver looking to dive in Europe.
Is El Cabron a Marine reserve?
In July 2006 half of Gran Canaria was declared a "world biosphere reserve" by the UN. El Cabron was given the title of 'marine reserve' partly due to a large number of flora and fauna species that inhabit this dive site.
A marine reserve is a protected area in which fishing, mining, and boating are prohibited. This is done in an effort to minimize the damage caused to our oceans biodiversity from climate change.
A study shows that in marine reserves the biomass of fish species increases by 450% and this is definitely true in El Cabron. With this dive site boasting some of the biggest and most varied fish species in the whole Canary islands.
Confirming that El Cabron is one of the best dive sites in Europe, in 2001 on the 28th of December, El Cabron was listed as a site of special scientific Interest in the European Union.
 How do I get to El Cabron?

This hidden gem of a dive site is located off the beaten track, on the East coast of Gran Canaria in the small town of Arinaga. Specifically, the marine reserve stretches from Punta de la Sal to Punta de la Monja (see the map at the top of the page).
To arrive at the marine reserve it is a ten-minute off-road drive from Arinaga, however, if you have a suitable vehicle this is part of the charm. When you first catch your glimpse of El Cabron you will be enthralled by the rugged terrain and the striking resemblance to being on the moon. El Cabron is listed on Google maps so you shouldn't have any trouble finding this dive site.
Possible hazards I should be aware of when diving El Cabron
Diving in Gran Canaria is very safe, however, as with all scuba diving sites, there are some hazards that you should be aware of.  We always follow the safest PADI standards as well as the Spanish Diving Laws.
 Waves:
Make sure that the weather conditions are favorable before entering the water. As El Cabron is a rocky shore entry you want to make sure that you can enter the water safely. I recommend using a weather app, such as 'windy' in order to check the conditions before your arrival.
Current:
It is not uncommon to experience a current while diving in El Cabron. It is important to remember to try and swim against the current and not with it. If you are swimming with the current make sure you turn the dive around earlier so you have enough air reserve to get back to the entry point. It is advisable to carry an SMB with you in case you do get caught in a current.
Rocks:
The topography of El Cabron is volcanic rock. Therefore the rocks can be sharp. The rocky entry can also be slippery so I advise wearing protective gloves and hard soled diving boots. Diving in bare feet and with pool fins is not a good idea! Here at Leagues Ahead Diving, we dive in 7mm suits. This ensures that if you fall your body is protected from the rocks. Therefore make sure you are wearing an appropriate exposure suit.
Marine life:
When scuba diving, we aim to respect all marine life. Therefore we advise you not to touch any fish species. The fish species that have defense mechanisms in Gran Canaria include Sea Urchins and Fireworms. Avoid them, they are party poopers!
Can I dive in El Cabron on my own?
It is important to make sure you are experienced enough and to conduct your research about the dive site before jumping in. We recommend that you conduct the Discover Local diving course beforehand. This PADI course will allow you to discover the best routes and points of interest. It will also point out any hazards that may not be apparent on first glance.
Discovery Bay
The first dive site you reach when visiting El Cabron is Discovery Bay, the shore dive.
Experience Level      ★☆☆☆☆
Recommended certification level: Open water diver, also suitable for first-time divers and snorkeling.
Maximum depth: 18m
Bottom composition: Volcanic rock and sand
Entry: shore
The main points of interest: Pete the Pufferfish and the orange Grouper
A short walk along volcanic sand brings us to the entry point, located on the left side of the beach. Discovery Bay is the perfect dive site for beginners to have an introduction to the amazing dive reefs of El Cabron. This location is also suitable for people looking to go snorkeling.
Take your time walking into the water as if the tide is low there are often large rocks in the shallow water.
Using our regulator or snorkels we will surface swim to the buoy line which is approximately 30 meters from the entry point. You can also reach the buoy line from a rocky entry on the left. However, as we commonly use this dive site for beginners we prefer the beach entry.
The buoy line is where we shall descend. We will descend to a depth of 4 meters where you will see the start of the volcanic rock formation on your left. This rock formation is your dive route and you shall be following this for the duration of your dive. On your right is a flat sandy bottom composition, perfect for spotting Angel sharks and Eagle rays.
It is a gradual sloped descent as you follow the reef towards the headland.
A point of interest is at 8 meters. Here you will find a cavern. The cavern is approximately 7 meters in width and goes back 4 meters into the rock formation.
I do not advise entering this particular cavern as it is narrow. Instead, we will bring a torch, hover on the outside and you will be able to spot all the marine life hiding within. It is not uncommon to find a Stingray resting at the back. If you are a more advanced diver there is a fun way to enter this cavern, swim through it and exit at a different point. But as mentioned this cavern is very narrow, so although fun, we will not do this with most divers.
The cavern is surrounded by Atlantic Damselfish, Blue-fin Damselfish, and Parrotfish. You will continue to spot these species of fish in greater numbers as you carry on following the rock formation. On this particular dive route, we often spot the golden Grouper.
We shall continue to follow the reef until we reach a second cavern. It is located just on the outskirt of the bay at a depth of 12 meters. This is where we often see our friend the Pufferfish, lovingly referred to as Pete. After we search in the cavern for more marine life we can continue the dive to a depth of 18 meters, where we have the most chance of finding Stingrays and Angel sharks hidden in the bottom composition.
We will turn the dive around on half a tank of air. We will then ascend back to 12 meters and return to the entry point following the top reef where we search for Octopus and Cuttlefish. Whilst completing our rolling safety stop.
We shall surface and walk back to the van. Congratulations you have completed your introductory dive to the marine reserve El Cabron.
Punta de la Monja:
The second dive site you will reach when visiting El Cabron.
Experience Level    ★★★☆☆
Recommended certification level: Experienced Open water diver to Advanced Open water diver +
Maximum depth: 22m
Bottom composition: Volcanic rock and sand
Entry: Rocky shore entry
The main points of interest: Impressive arches, caverns and large shoals of Rhonchorous.
This is not the most common dive entry of El Cabron, but in our opinion, it is the most varied dive that also offers the most marine life. The best time to enter this dive site is at low tide. Only a few meters walk from the van, sit down on the edge of the rocks and put your fins on your feet. Simply step into the water.
Once we are in the water we will surface swim for 15 meters out to sea until the water is deep enough for you to descend. When you descend you may experience some swell from the waves. We will continue swimming until we reach a hole in the volcanic rock formation.
The geology of El Cabron has created a large hole that you will come across when you descend and follow the reef. This hole is large enough to safely dive through and it will bring you to the main dive route and to a depth of 9 meters. Once you have descended through the hole, the swell will disappear and you will be greeted with calm and deep blue water.
Now we will simply follow the volcanic rock formation to the left. After a few minutes, you will be greeted with one of El Cabrons most stunning rock formations – the arch of El Cabron. The arch is home to a prolific amount of marine life including countless large Trumpetfish, Atlantic Damselfish, and White Seabream.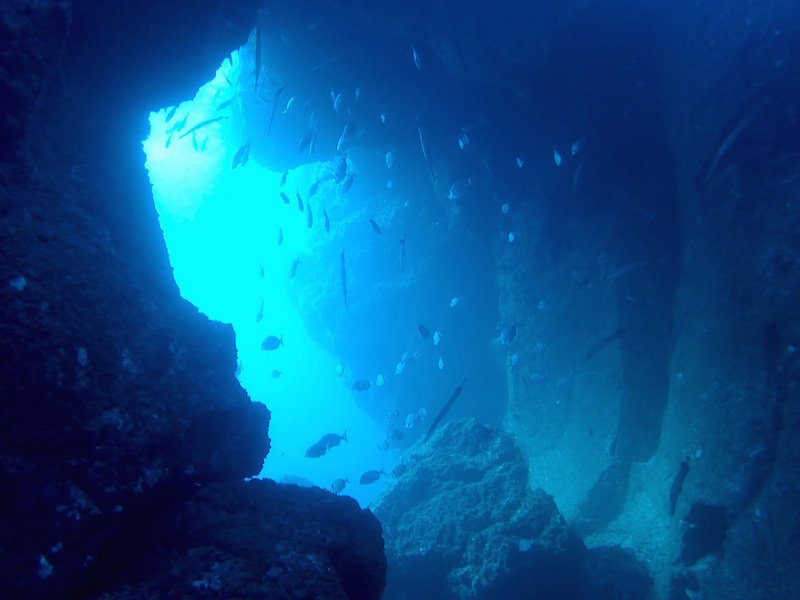 After we have dived through the arch we will dive to our right away from the reef wall and down to a depth of 22m. This is where we will encounter another spectacular sight, the shoal of Rhonchorous (sleeping fish.) This lazy species of fish always stay in the same area in shoals of thousands. Thus allowing you to swim straight into the shoal and be engulfed in fish. Continue the dive at 22meters searching for Angel sharks and large stingrays. Although they may be hidden behind the huge shoal of Rhonchorous.
Once we reach the end of the shoal, we will immediately turn into the longest cavern of El Cabron. Make sure you turn your torch on before swimming 20 meters into the cavern. As you swim in, make sure to deflate your BCD frequently in small amounts as the cavern has an upwards incline. Check for the sleeping stingrays that inhabit this cavern. When you exit remember to avoid kicking up the sand to keep the visibility for other divers.
After we have exited the cavern, this is where we turn the dive around, swim back through the shoal of Rhonchorous and through the giant arch. We then ascend to the top of the reef to complete our rolling safety stop, before returning to the shallow water. We shall then return to the van for a surface interval, a drink, snack and a chat about all the incredible marine life you just saw.
The table top
Experience Level    ★★★☆☆
Recommended certification level: Open water diver
Maximum depth: 23m
Bottom composition: Volcanic rock and sand
Entry: Rocky shore
The main points of interest: Clearwater, interesting caverns, large Groupers, and Barracuda.
The most popular entry point in El Cabron is the bathtub. A semi-circle rock formation that shelters the entry point from the waves hitting the shore, making this the easiest and safest entry point for this area of the marine reserve.
Once you reach the edge of the bathtub make sure you have a fully inflated BCD, you have your mask on and your regulator in. Depending on the tide you can either put your fins on whilst holding onto the rocks, or step into the water and put your fins on once you are floating in deeper water. Now let's begin the dive!
We shall descend to 5 meters in depth where you will normally be greeted with 15-25 meter visibility. The bottom composition of this dive is primarily rocked, meaning the visibility is normally better than the other dive in Discovery Bay. We like to cut the reef and swim on the table top for five minutes at a depth of 11 meters. Diving on the table top will allow us to spot the Fangtooth eel, Moray eel and a wide variety of colorful Nudibranchs. After five minutes we will reach the edge of the reef where you will be able to see the sandy bottom and a vertical descent down to 20 meters.
Once we descend to 20 meters from the top reef we will immediately turn into one of the most impressive caverns that El Cabron has to offer. There is a hole at the back of this cavern which allows natural sunlight to brighten the cavern. Using your torch look for Stingrays, Glass-Eye fish, and Cardinalfish that inhabit these dark areas.
After we have exited the cavern without disturbing the sand we follow the volcanic rock formation to the right. From this point on the volcanic reef on your right side is incredibly impressive. Continue exploring smaller caverns until we reach a depth of 23 meters where we usually turn the dive around. We commonly spend a lot of time at 23 meters as there are so many crevices to explore and large Barracuda and Groupers to be seen.
Then ascend back to the table top at 11 meters, exploring another route when diving back to the exit point. Once we reach the bathtub, we shall relax at 5 meters and complete our safety stop, while spotting Cuttlefish and Octopus. We shall exit in exactly the same area we entered. Well done for diving the table top!
Punta de la Sal
Experience Level    ★★★★☆
Recommended certification level: Advanced open water diver
Maximum depth: 33m
Bottom composition: Volcanic rock and sand
Entry: Rocky shore
The main points of interest: Deeper depths and beautiful fan coral
For this dive, we enter the water from the bathtub, the same entry point as The Table Top. After diving for approximately 10 minutes and reaching the depth of 18 meters, we dive away from the reef and down to the sandy bottom composition. Once on the sandy bottom at 24 meters depth, you will be surrounded by hundreds of Garden Eels that will bury themselves very quickly in the sand once you approach them (similar to the game whack-a-mole.)
From this point, we shall continue to gradually descend over impressive large rock formations until we reach a depth of 33 meters! At this depth, you really begin to feel like you are in a different world, with a dark eerie feel and a high chance of spotting giant Rays. We will then search for the beautiful fan coral formation, which seems really alien in contrast to the rocky sand bottom composition of this dive.
At this point, we will keep an eye on our no decompression limits as we normally have 10 minutes at this depth before entering decompression (unless you choose to dive with nitrox.)
Slowly ascend back to the main reef at 18 meters and then return back to the entry point for our safety stop.
Conclusion
After reading all that El Cabron has to offer you can understand why many would call this the best dive site in Gran Canaria. You can dive for a whole week in El Cabron and still not experience everything this dive site has to offer. It is very rare to find a place with such varied and interesting dive routes.
If you would like to book a dive in El Cabron or any other dive sites in Gran Canaria then call us or