Top four places to go snorkeling in Gran Canaria for free!
Do Leagues Ahead Diving offer snorkelling in Gran Canaria?
Yes! Leagues Ahead Diving offer a fantastic snorkelling excursion which is available for everyone. The fun-filled snorkelling excursion includes a fully qualified PADI instructor guide, the best snorkelling equipment available on the market and complimentary hotel transfers. See our snorkelling excursions here!
We also rent snorkelling equipment for 24 hours!
If you are looking to spend your holiday snorkelling in Gran Canaria but don't have the available equipment, no problem! We rent full sets of snorkelling equipment for 24 hours, with no deposit required! 
What If I just want to grab a mask and snorkel and go by myself?
Go for it! We understand that if you love water as much as we do, just grabbing a snorkel and hitting the water is the best therapy out there. No stress, little or no expense, and a glimpse Into the hidden underwater world that enthralls so many.
Gran Canaria is home to beautiful clear, warm and sub-tropical water. Combined with the range of African, Atlantic and Mediterranean fish, snorkelling in Gran Canaria is guaranteed to delight the many. Because of this, we sat down to compile a list of the best snorkelling sites on Gran Canaria as we believe everyone needs to see what this Island has to offer!
Is it safe for me snorkel on my own in Gran Canaria?
Snorkelling is a safe sport. However you must snorkel responsibly and choose not to snorkel in places beyond your ability and confidence! Some things to be aware of when going snorkelling here in Gran Canaria are:
Monitor the water conditions before entering, do not snorkel off rocky shores and avoid any swell. 
Its recommended to tow a dive buoy if you venture outside of designated swimming areas as snorkelers can be hard to identify.
Make sure to stay clear of pedalos, jet skis and boat lanes.
If you have a wetsuit or a shortie we recommend you wear it.
And finally, always remember to respect the water and what lies beneath it.
Can I take my child Snorkelling in Gran Canaria?
Absolutely! Snorkelling is great exercise and a great way to tear your children away from their mobile phones. Pick a snorkelling location that is calm and sheltered where they are able to stand up. I would recommend providing your child with a wetsuit or a shortie, this will keep your child buoyant, protect their skin from harmful UV rays and ensure they do not get cold whilst in the water. Flotation devices such as a waist belt are also a fantastic idea to make the snorkelling in Gran Canaria, safe, fun and relaxed.
Now that's over and done with, what are you waiting for, go and grab your snorkelling gear, we will see you snorkelling in Gran Canaria soon!
Amadores Beach - The lover's beach:
What is so special about Amadores?

Everything! We take our Discover Scuba Divers to Amadores for a reason you know! Amadores offers one of the calmest and most relaxing entries to the water. Amadores Bay is perfect for the whole family as this 800-meter wide beach is home to some fantastic and reasonably priced bars, shops and restaurants! It is the perfect place to relax after a long session of snorkelling.
In addition, the abundance of parking spaces ensure that the beach is easily accessible for everyone. However, make sure you get there early in the morning to guarantee a car parking space, it isn't called the lover's beach for nothing. Everyone loves it!
I'm at Amadores but where do I go snorkelling and what will I see?
Enter the water at the left side of the beach, and follow the artificial rock formation on the left. Behind the pedalos is the perfect place to wait and observe the abundance of Parrotfish, Damselfish, Wrasse, and Bream that inhabit the waters below (don't forget your buoy.) If you observe closely enough you may be able to spot an Octopus hiding in the rocks beneath you!
Where's the best place for a refreshment afterwards?
For an after snorkelling refreshment I can highly recommend The Palm Beach restaurant. If you are looking for a refreshing drink, accommodating staff and a breathtaking Atlantic Ocean view, then the Palm Beach restaurant has you covered!
Tufia - A quiet Spanish town:
Why is snorkelling in Tufia so special?
The designated free car parking area makes this site ideal for a fun family filled day. A short walk past the quaint whitewashed houses brings you to the black volcanic sandy beach. 
What's the best snorkelling route and what will I see?
Once in the water swim to the right side of the beach as hidden in the volcanic rock formation below will be the the eco-system that Gran Canaria is famous for. Flatfish, Lizard Fish, and Sting Rays are easy to find if you're not too busy having fun! We recommend snorkelling on the right side of the beach as the marine life is more varied and there isn't a current like you would expect to find if you swim further out on the left side.  Be careful to check the water is calm before entering. If the conditions are wavy the entry will not be as effortless as it could be and remember the exit is always harder than the entry.
Where can I relax after I finish snorkelling?
After an exhilarating snorkelling trip, there is a hidden bar in a local residents house on the left side directly next to the beach. Here you can find fresh paella and drinks for a reasonable price in one of the most picturesque settings, that not many tourists know about! (Shh! don't tell the others, it's a secret.)
Why is Puerto de Mogan one of the best spots to go snorkelling in Gran Canaria?
If you want a relaxing day out on the beach, Puerto de Mogan is the place to be! Parking and a newly built bus stop once again make it extremely easy to get to, don't say I'm not considerate!

Now don't be deceived by entering the water from the beach, walk to the left far end of the parade, past all the restaurants and bars, and don't be distracted by these alluring places to eat and drink, the real prize is a few steps away from the pebble beach.
Where do I enter the water and what marine life will I see?
You can walk or jump into the water off the pebble beach,  just make sure you are careful about the tide. Once you are in the water you will be greeted by crystal clear water and the exciting prospect of caves to snorkel in.  You will be welcomed by Boxfish, Parrot fish, Damselfish, Cuttlefish and much more. Carry on swimming left and there is a perfect rock to sunbathe on and catch your breath after being bombarded by Gran Canaria's underwater wonders.
Why should I choose to snorkel in Risco Verde?
This snorkelling location is a slightly longer distance from most tourist towns, located on the East coast of Gran Canaria, but believe me, it is worth the effort. An extremely popular destination for divers and water enthusiasts alike, it is easy to see why. The visibility here averages 10 meters in winter and is often 20-30 meters in the summer months.
Where should I enter the water and what will I see?
I suggest swimming to the left side of the beach, but be careful of the Sea Urchins. Always remember to look where you are swimming or walking. Inhibiting the water below are Barracuda, Eagle-rays, my favorite smiley Parrot Fish, Lizardfish, and Wreck fish.
Where to warm up after your Snorkelling in Risco Verde?
Once you have finished snorkelling a lovely coffee afterward in one of the many charming coffee shops in Arinaga is the place to be, however directly on the left side of the beach is a charming restaurant which is bound to have your favorite Spanish cuisine, including the best Mojo potatoes on the island!  It is very popular so good luck getting a seat! This is the perfect opportunity to warm up and discuss the marine life you have just seen.
Should I go Snorkelling or Scuba Diving?
The choice is completely yours, but here are some things to take into consideration when choosing whether to go snorkeling or scuba diving in Gran Canaria!
Easier to master.
No heavy equipment is necessary.
You do not need to be under the direct supervision of an instructor.
Snorkelling equipment is affordable and easy to take traveling.
You have the chance to get closer to beautiful marine life.
You have a greater chance of spotting big marine life such as Angel Sharks and Sting Rays!
You will experience the feeling of being weightless – like you are flying through the water.
Conquer your Fears and try something new!
Stay safe, respect the environment and if you see us blowing bubbles beneath you while snorkelling in Gran Canaria, remember to say hello!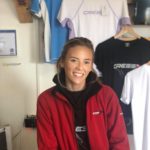 Sophie Keningale works hard to share her passion for scuba diving through her blog posts and hopes to offer useful information for scuba divers and those holidaying in Gran Canaria. Sophie owns and operates Leagues Ahead Diving with her partner James and the center has been open since 2017.