YOUR PADI OPEN WATER COURSE IN GRAN CANARIA - What to expect!
With clear sub-tropical water, calm seas and sunshine 360 days a year, Gran Canaria is the perfect destination for those looking to gain their PADI open water certification.This is why we are going to tell you everything you need to know, answer any questions you may have and tell you exactly what to expect when you join Leagues Ahead Diving in Gran Canaria for your PADI open water course!
Let's dive in!
CAN EVERYONE PARTAKE IN THE PADI OPEN WATER COURSE IN GRAN CANARIA?
This course is designed for those that have little or no scuba diving experience, so it is very easy to enrol and get started!
To take part in the Open water course:
You must be ten years or older.
You must know how to swim.
And you must pass a very simple medical questionnaire.
HOW MANY DAYS DOES IT TAKE TO COMPLETE THE OPEN WATER COURSE?
The course can be completed in only three days!
And even better, the days do not need to be consecutive, we can work around your holiday schedule!
DOES THE OPEN WATER CERTIFICATION NEED TO BE RENEWED?
Nope! Unlike a driving license the PADI Open water certification does not expire and does not need to be renewed. But it is important to keep your skills up to date and book a refresher dive if you haven't dived in an extended period of time.
HOW DEEP CAN I DIVE WHEN I HAVE THE PADI OPEN WATER CERTIFICATION?
Divers over the age of 12 can dive to a maximum depth of 18 meters.
Divers aged 10-11 may not exceed 12 meters until they reach the age of 12 where the certification is automatically upgraded.
WILL I HAVE TO COMPLETE SOME THEORY?
To complete your PADI open water course you will need to complete some theory to reinforce your practical lessons and to learn how to become a safe and fully competent diver. You will need to complete:
5 knowledge reviews
4 quizzes
1 final exam
Don't worry! The theory is a fun and interactive way to reinforce the information that your diving instructor will have already told you.
can i study the THEORY ONLINE before I start the open water course in gran canaria?
Yes! To make your learning process even easier we use E-learning, which allows us to send your theory to your email address before the course has even started! All you need is a working internet connection!
You can complete the theory from your phone, tablet or laptop.
You will create an account on the PADI website which will allow you to access your unique E-learning code and complete all theory from the comfort of your own home.
This account will then be used to store your digital certification card, logged dives & much more.
You can download the PADI app and have everything available to you at the touch of a button.
WHAT SKILLS DO I HAVE TO MASTER FOR MY OPEN WATER COURSE?
During your course your designated instructor will explain and demonstrate a number of scuba diving skills that are important to become a safe and fully competent scuba diver. The majority of the skills will focus on your mask, your breathing apparatus and your buoyancy. But you will also learn some more skills such as compass navigation, cramp removal, tired diver tow and much more! Your instructor will carefully explain and demonstrate each skill on the surface, and then they will demonstrate them again in shallow water. You will then practice the skill in the shallow water with your instructor until you are comfortable.
HOW MANY DIVES WILL I COMPLETE?
Four open water dives. Besides practising the skills, it is equally as important to practice some diving! After you have completed your training in shallow water, your instructor will then guide you on a dive. Here you can spend some time with the marine life that Gran Canaria is renowned for and practice the art of buoyancy!
We conduct two dives in one day. So we will conduct one dive, have a surface interval and then get back into the water for the second dive.
On your first dive you can reach a maximum depth of 12 meters.
On your last dive of the course you can reach a maximum depth of 18 meters!
During the dives you will also repeat some skills to simulate a more realistic diving situation.
SHOULD I EXPECT TO BE THROWN IN THE DEEP END STRAIGHT AWAY?
No! The first open water dive is designed to make you comfortable and relaxed. It is all about getting you into the water, getting used to your scuba diving equipment and taking your first breaths underwater. Our main goal of the first dive is for you to fall in love with scuba! Do not expect to be rushed during the learning process.
DO I NEED TO DO ANYTHING TO PREPARE FOR THE PADI OPEN WATER COURSE?
Nope! It is not necessary to do anything in advance, the course will teach you everything you need to know in three days. However if you would like to get ahead of the game:
Youtube has some very informative videos demonstrating each PADI skill that you will learn during the course. Like this video here.
There are also a lot of scuba diving blogs which can be a great help if you would like to get some pre-dive homework in! Like this blog here which I wrote to explain the process of how to assemble your scuba diving equipment.
WILL I BE DIVING WITH A LOT OF OTHER PEOPLE DURING MY COURSE?
At our dive center here in Gran Canaria, we make sure our courses are conducted in small and manageable groups, allowing your instructor to give you the time and attention you deserve.
How much does it cost to take my open water course in gran canaria?
EXPECT TO HAVE A HUGE AMOUNT OF FUN.
As cliche as it sounds, not only can you expect to become a certified diver but you can also expect to have a huge amount of fun while doing so. Let our passionate and dedicated scuba diving instructors teach you to become the best diver you can be and show you the amazing underwater world that Gran Canaria has to offer!
Let today be the start of something new! 
Want to try diving before commiting to the course?
Ready to get that open water diving certification?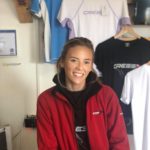 Sophie Keningale works hard to share her passion for scuba diving through her blog posts and hopes to offer useful information for scuba divers and those holidaying in Gran Canaria. Sophie owns and operates Leagues Ahead Diving with her partner James and the center has been open since 2017.