Welcome to Bahia Feliz, Gran Canaria!
Bahia Feliz is a miniature sun sanctuary located on the South coast of Gran Canaria. A small, relaxing and compact town that is perfect for those looking to relax and soak up the famous Canarian sun.
Upon visiting Bahia Feliz, you will not be greeted with the flurry of nightlife that you can expect from the neighboring towns of Maspalomas and Playa del Ingles. But you will instead be greeted with dark sand, a tranquil atmosphere and a picturesque view of the Atlantic Ocean.
With it being well known that multiple water-sport excursions take place from the Bahia Feliz beach, is it suitable for scuba diving? And if so, how does scuba diving in Bahia Feliz compare to other dive sites on Gran Canaria?
Can I scuba dive from Bahia Feliz beach?
In theory, if you are a certified and competent diver with all of your own diving equipment then it is possible to dive from the Bahia Feliz beach. However we do not recommend it. Gran Canaria has far better dive sites to offer all within only a short distance of travel.
All of the surrounding dive centers choose to travel slightly further afield in a bid to show clients some world-class diving in Europe!
Why don't we recommend scuba diving from Bahia Feliz beach?
Strong wind:
The beach of Bahia Feliz is renowned for being one of the windiest beaches on the South of Gran Canaria. The stronger the wind the more turbulent the water conditions become. The strong wind makes for a potentially difficult entry point, a difficult surface swim and stronger underwater currents.
Low visibility:
If diving from Bahia Feliz you can expect a maximum visibility of 5 meters in all areas of the beach. Bottom composition such as mud, silt or sand are prone to the effects or water motion. Whereas a rocky bottom composition or a coral composition are much less affected.
Little marine life:
Due to the bottom composition of Bahia Feliz beach being sand, this negatively impacts the marine life that divers would expect to see when diving in Gran Canaria. You are unable to spot the tropical fish that feed from the algae on the rocks or the larger species of Stingrays and Angel Sharks.
Jet skis and boat traffic:
The Bahia Feliz beach is extremely popular for water-sports and passing boat traffic. This dangerous overhead environment increases the risk involved when scuba diving.
No depth:
Due to the nature of the beach divers would struggle to dive to a depth deeper than five meters. A shallow depth of 5 meters is where you will experience the lowest visibility and the surge from the surface waves (making for a not so great diving experience!)
What dive site do we recommend?
Gran Canaria is renowned for offering some of the best diving in Europe. With stunning underwater rock formations, warm subtropical water and a rich biodiversity of marine life. Because of this we have recommended the best dive site for your certification level, so that you can make the most from your scuba diving vacation in Gran Canaria.
For certified divers we recommend El Cabron:
El Cabron was voted one of the top ten dive sites in Europe and with rugged rock formations, large Stingrays and Angel sharks it is guaranteed to delight all levels of recreational scuba divers.
Distance from Bahia Feliz: 18 minutes
To learn more about El Cabron click here!
For beginner divers we recommend Amadores bay:
Amadores bay is a calm, sheltered bay on the South coast of Gran Canaria that offers the perfect dive site for those looking to experience scuba diving for the first time or to build up their confidence in the water.
Distance from Bahia Feliz: 23 minutes
To learn more about Amadores Bay click here!
What is the easiest way to go scuba diving from Bahia Feliz?
Leagues Ahead Diving offer complimentary hotel transfers to and from all the best dive sites on Gran Canaria.
Distance from Bahia Feliz to Leagues Ahead Diving: 5 minutes
Can I snorkel from Bahia Feliz?
Yes, in theory it is possible to snorkel from Bahia Feliz beach. However due to the swell of the beach, the limited marine life and the low visibility we highly recommend traveling to a safer snorkeling site.
If you are an experienced snorkeller looking to pass the time or simply just wanting to enjoy the warm Canarian sea then go for it! However if you are a newbie snorkeller or snorkeling with children we recommend these top free snorkelling sites instead.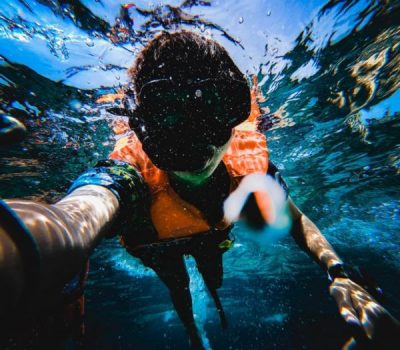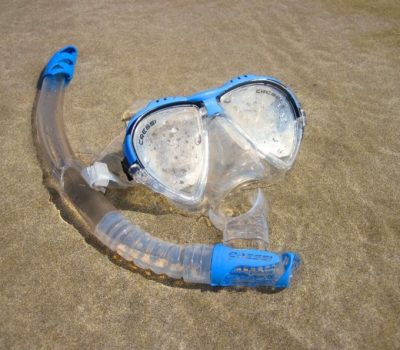 Evaluate the weather conditions before scuba diving or snorkelling in Bahia Feliz:
Collect accurate weather conditions using this weather APP here.
You will need a low wave height for optimal diving conditions. A low wave height is shown with a light blue colour.
Evaluate the visibility, how does it look? Remember that vertical visibility is typically better than horizontal visibility, so be careful not to overestimate the visibility before entering the water.
Check to see if there are lifeguards present on the beach in case of an emergency.
If available take a buoy or SMB with you to make sure that others are aware you are in the water. Make sure to deploy the SMB when surfacing from the dive.
What other activities can I do in Bahia Feliz?
Enjoy the thrill of windsurfing:
The strong wind makes Bahia Feliz the perfect beach for those looking to surf the waves! The windsurfing from Bahia Feliz is world famous with championships held on the beachfront.
You will be able to find several surfing schools located near Bahia Feliz that will be able to take you windsurfing directly from the beach.
Sing and dance at Garbo's dinner show:
The most famous show in Gran Canaria is Garbo's dinner show. Enjoy a decedent three course meal all served to you by the stars of the show. If you are looking for glitz, glamour and an all round good time, then a trip to Garbo's dinner show is the perfect way to spend your evening in Bahia Feliz.
Sample local delicacies:
Bahia Feliz is home to some wonderful local tapas bars. We recommend sampling the famous papas arrugadas and the pimiento de padron.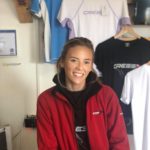 Sophie Keningale works hard to share her passion for scuba diving through her blog posts and hopes to offer useful information for scuba divers and those holidaying in Gran Canaria. Sophie owns and operates Leagues Ahead Diving with her partner James and the center has been open since 2017.